France's Macron outlines new approach to African policy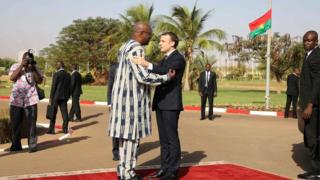 French President Emmanuel Macron has outlined a new approach to relations with Africa as he begins a regional trip starting with Burkina Faso.
He said he was "from a generation that would not tell Africans what to do".
He also said he would declassify secret French files on the former colony's assassinated leader, Thomas Sankara.
Mr Macron is on a three-day trip in West Africa, taking in Burkina Faso, a European-African summit in Ivory Coast and Ghana.
Hours before he arrived in Burkina Faso's capital, Ouagadougou, a grenade was thrown at French soldiers. French media reported that three civilians had been wounded.
Separately, stones were hurled at a vehicle travelling with the French delegation. Mr Macron was meeting the country's president at the time and was not in the convoy, his spokesman said.
Tangled relationship
By Alex Duval Smith, BBC News, Dakar
Mr Macron's speech comes at a time of growing unrest in French-speaking African countries. On social media and in the streets, there are calls for an end to what is perceived as Paris's tacit support for corrupt governments. Civil society groups in countries like Chad, Congo-Brazzaville, Gabon, Guinea and Togo accuse Paris of being complicit in holding back human rights and economic progress.
French former colonies - such as Mali or the Central African Republic - are among the poorest and most troubled countries on the continent. Others that are doing better, such as Ivory Coast, are locked in longstanding relationships with French companies.
Emblematic of the dismay with France is the CFA franc - a currency that is pegged to the euro and used in 14 countries, which critics say is a colonial legacy.
Macron said he is part of a new generation that will no longer dictate to Africans. But the tangled relationship is equally cherished by influential French people and some of Africa's longest-serving presidents and will be difficult to undo.
Sankara files
All French files on the 1987 assassination of Thomas Sankara would be made available to Burkina Faso's authorities, Mr Macron said.
"At present, except for documents which are classified and categorised as secret, the files are available and open to Burkinabe justice," he added.
Sankara, who was dubbed Africa's Che Guevara, was assassinated in a coup led by his erstwhile brother-in-arms and best friend Blaise Campaoré - who went on to lead the country for the next 27 years.
Mr Macron's advisers say the tour's main message will be to stress a partnership of equals with Africa, aimed at boosting co-operation in education, particularly that of girls and women, the digital economy and migration.
"France no longer has an Africa policy," he told some 800 students he was addressing at the university of Ouagadougou.
He said he wanted "Africa to be a priority of French economic diplomacy" and that France would "no longer invest solely in government-to-government operations. It will no longer invest for large groups to participate in organised corruption operations".
There were some clashes outside the university between pro-France protesters and those who reject French interference in African affairs, Rodrigue Tagnan, a journalist at the scene, tweeted.