Mugabe resignation sparks dancing in the street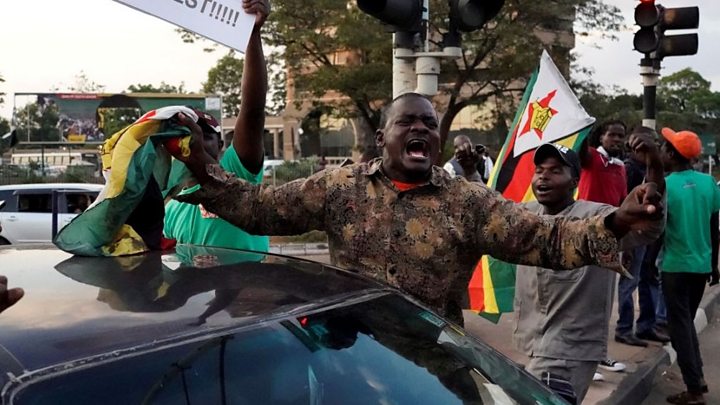 News that Robert Mugabe has resigned as the president of Zimbabwe has spread quickly across the streets of Zimbabwe. This is how people are celebrating.
The celebrations started with MPs in parliament reacting to the resignation letter from Mr Mugabe being read out:
Where people couldn't get up on tables. they got up on cars:
People waved down traffic with their flags:
And drivers were beeping their horns at the news:
This Zimbabwean reporter captures people partying between the traffic:
Singing broke out on the streets of Harare:
Some dressed up in anticipation for the celebration:
People celebrated with the army:
On Whatsapp groups, people are sharing an old meme of Robert Mugabe falling at an event in 2015 photoshopped into him jumping Zimbabwe's border:
A Zimbabwean news anchor highlights just how long Mr Mugabe has been in power:
On the same theme, another Zimbabwean posted on Instagram a photo of a young Mr Mugabe, adding: "You started early and finished late".
One MP who was an ally of Mr Mugabe, described by some as his closest associate, paid tribute to him:
Some tweeters suggest the tribute could go even further - perhaps with a biopic of Mr Mugabe starring Don Cheadle. This mock-up film poster suggests all the details have already been carefully thought through:
Don Cheadle retweeted the picture with no comment aside from three crying-with-laughter emojis.