Liberia votes to choose Ellen Johnson Sirleaf successor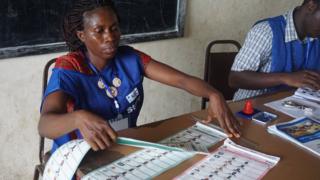 Liberians have voted to choose a successor to Africa's first elected female president and Nobel Peace laureate Ellen Johnson Sirleaf.
Ex-football star George Weah and Vice-President Joseph Boakai are the main contenders in the race to succeed her.
Liberia, founded by freed US slaves in the 19th Century, has not had a smooth transfer of power in 73 years.
Ms Sirleaf urged people to vote peacefully in a nation still recovering from a 14-year civil war.
"Your vote is about you and your family - not party, ethnicity," she said in an address to to the nation.
A total of 20 presidential candidates are running to succeed Ms Sirleaf.
They include Alex Cummings, a former Coca-Cola executive, and MacDella Cooper, a former model and ex-girlfriend of Mr Weah.
Ms Sirleaf, 78, is stepping down at the end of her two terms.
When will we get results?
The head of the electoral commission, Jerome Kokoya, told the BBC's Newsday programme that he expected early results to be announced by 23:00 GMT.
Provisional results could come as soon as Wednesday but might take up to two weeks due to the poor state of the country's infrastructure.
To avoid a run-off, the winner of the presidential race must get 50% plus one vote.
With so many candidates running, most analysts expect there to be a second round.
Is Liberia peaceful now?
Ms Sirleaf took office in 2006, after her predecessor, Charles Taylor, was forced out of office by rebels in 2003, ending the long civil war.
Taylor is currently serving a 50-year prison sentence in the UK for war crimes related to the conflict in neighbouring Sierra Leone.
Mr Weah, 51, has chosen Taylor's ex-wife Jewel Howard Taylor as his running mate.
This is the former footballer of the year's third attempt to become president.
Ms Sirleaf has failed to campaign for Mr Boakai, fuelling speculation that the two have fallen out.
---
Discover Liberia:
Founded by freed US slaves in the 19 Century
Not had a smooth transfer of power between elected leaders in 73 years
Hundreds of thousands killed in Liberia's two civil wars
At least 4,800 killed by the 2014 Ebola outbreak
Population 4.6 million
2.2 million voters eligible to vote
---
Liberia's young population
By Charlotte Attwood, BBC, Monrovia
One in five of Liberia's registered voters is doing so for the first time.
This is a young population, and they have turned out in huge numbers.
Grace Hanson, wearing a white T-shirt that reads "Sustain the Peace", said it was because there are no jobs for young people in Liberia.
"We need change - some of us are looking for jobs, some people are looking for money to continue school, but they don't have money," she complained.
Kathiamba Musa, 27, waited patiently in line at a Muslim school on a back street of Monrovia.
He spent the first 12 years of his life living in the bush outside the city and for him he "just wants peace in the country", that is it.
For everyone coming out to vote peace is a priority, not just for the country but the region.
"If Liberia sneezes, the whole region catches a cold," said Kadiatu Kamara, from a women's peace group.
---
What are the main issues?
Almost 2.2 million people are registered to vote in the election.
Parliamentary elections are also being held at the same time.
Campaigning has been dominated by promises to tackle poverty, corruption, and guarantee stability in the West African state.
Liberia is one of the poorest countries in the world, with more than 50% of people living in poverty.
It was one of three West African states badly hit by the 2014-15 Ebola outbreak which left more than 11,300 people dead.