Burundi committed crimes against humanity - UN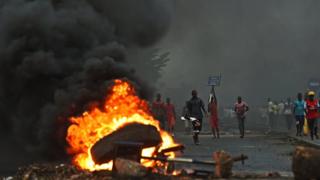 UN investigators say there is strong evidence that crimes against humanity have been committed in Burundi.
Their report details killings, torture and rape, which they say have been committed largely by government forces - but also by opposition groups.
Burundi's ambassador to the UN said the report was part of an "international conspiracy" against the country.
Violence erupted in the country in 2015 after President Pierre Nkurunziza decided to run for a third term.
Since then, more than 400,000 people have been forced from their homes.
Mr Nkurunziza was re-elected in July 2015 in a poll that was boycotted by the opposition.
Francoise Hampson, one of the three investigators from the UN Commission of Inquiry on Burundi, told the BBC on Monday that some of the alleged abuses included "arbitrary detention and arbitrary arrest, unlawful killings of various types, torture, cruel, inhuman, degrading treatment, rape and cases of sexual violence".
Commission head Fatsah Ouguergouz said the investigators believed that "there was reasonable evidence to believe, that the majority of these serious human rights violations committed constitute crimes against humanity".
ICC urged to act
The report said that most of the crimes were committed by Burundian state agents or individuals under their control.
It said this included high-level officials of the National Intelligence Service, which reports directly to the president, the national police force, military and Imbonerakure, the ruling party's youth league.
Burundi's ambassador to the UN, Albert Shingiro, dismissed the report as part of an "international conspiracy".
In a tweet, he said the best way to fight this was through unity, patriotism and determination.
The UN report also said that Burundi's armed opposition groups had committed human rights abuses.
The document was based on interviews with more than 500 victims and witnesses.
The investigators were never allowed to go to Burundi, conducting their inquiry from neighbouring countries.
In the report, the investigators urged the International Criminal Court (ICC) to open a case as soon as possible.
Burundi said last year it was withdrawing from the ICC, and the move is expected to take effect in October.