Orphaned, married at 15, and now back at school with my kids
Melon Nyamwiza Rwancumangi kept her dream of going back to school alive for 20 years, having dropped out when orphaned in her teens.
The Ugandan mother is now about to take her O-Levels. She's at the same school as her children and in the same class as her daughter. World Service's Outlook producer Richard Hooper spoke to Melon through an interpreter.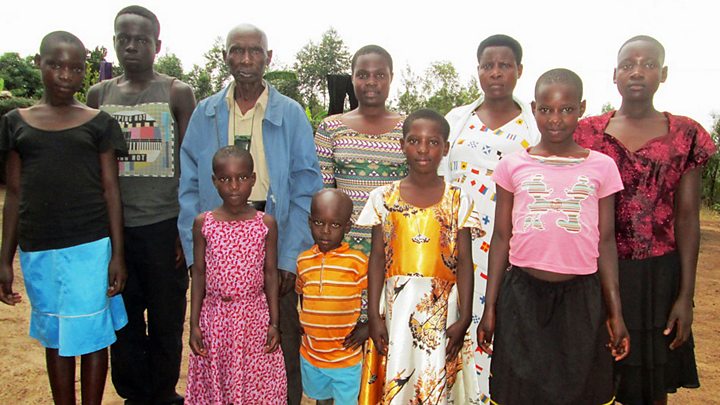 Orphaned in her teens and overwhelmed with looking after her siblings, Melon Nyamwiza Rwancumangi reluctantly dropped out of school. She married a man of 71 and took on his children, before conceiving her first child after seven months of marriage. Six other children followed, before Melon made a decision - she wanted to return to school.
"I said to my husband that I still really needed to go to school. I had lost my parents in such sad circumstances, that I felt like there was unfinished business. I still felt those emotions.
"By then, I was in my 30s. When I'd left school the first time, I had been in Primary Six. So I rejoined in Primary Seven. The kids in my class were about 13 years old. I was a grown up, but I wasn't ashamed. I wanted to study. I was so happy and interested in the lessons."
Listen: Going back to school with my children
'Everybody loved me'
Picking up where she left off, and being the same class as her eldest daughter, didn't ruffle any feathers in the classroom, but it was a different story in her village.
"You know, the children didn't laugh at me. It was the adults in the village, they were the ones who mocked me. I ignored them. Each morning, I picked up my books and marched past them on my way to school with the other children."
Melon's teachers supported her throughout, providing extra tuition when she failed the exams and encouraging her to keep on studying. And she fitted right in at break-times too.
"I used to hang out with the children. I used to play with them at break-time. Especially running. I would join in their races, and you know, I could run better than them. But nobody ever laughed at me. Everybody loved me. When things went wrong, they'd hug me. And when things went well, they'd cheer."
Even getting pregnant again didn't deter her from her studies. Melon gave birth to her eighth child during the holidays and went straight back to school, with her newborn son strapped to her back.
"Nothing was going to stop me. I used to wake up very early each morning and I'd get the milk ready for my son. Then I'd bathe him and get him dressed.
"I'd put him on my back, and off we went to school. It's quite a long journey, over 20km (12 miles) there and back, but the teachers would look after him for me during lessons. I'd change him at 10am and 1pm. I'd breastfeed him at break times. The other kids would come and play with him to keep him happy."
Melon's eldest daughter, Judith, who's now 20, was in the same class and they still study together, now in Senior 4. Going to school is a family affair. Melon says this has brought the family closer together.
"We go to school together, we revise together. We love each other deeply and when they are praying at school, I join them and we pray together. We have a great bond."
Melon's determination is paying off. She is now in her final year of secondary school and preparing to take her O-Levels. She wants to become a teacher, to teach the orphans in her village - but has run out of funds to study for her teaching qualification. That may well not be the end of the story though - a businessman from Singapore has set up a crowdfunding project to make sure she realises her dream.
"You know, in our village we now have a little school for orphans. I'd like to work there or set up my own. That was me once upon a time."