Sierra Leone police free woman accused of FGM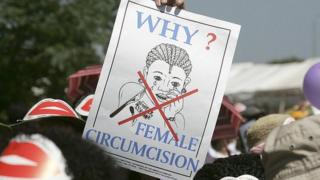 Sierra Leonean police have released a woman accused of female genital mutilation following pressure from a powerful society of circumcisers.
Elsie Kondoromoh was "tentatively" released after a large number of cutters protested against her arrest, police inspector Marty Tarawallie said.
Stick-wielding cutters have also protested at a hospital where her alleged victim is being treated.
Female circumcision is currently banned in Sierra Leone.
The ban came in force following the outbreak of the deadly Ebola virus in the region in December 2013, killing some 11,000 people.
But female circumcision, which traditionalists see as a passage to womanhood, has been revived in recent months, reports the BBC's Umaru Fofana from the eastern region of Kenema, where the incident happened.
Many activists accuse the authorities of failing to stop it because of the enormous power circumcisers wield within their communities, he adds.
On a local radio station on Wednesday, a caller said they were prepared to "die and to kill" to continue practising female circumcision.
The uniform-clad cutters have a society, known as Soweis, representing them. Ms Kondoromoh is the national vice-president of the Soweis council.
'Blindfolded'
Alleged victim Khadija Balayma Allieu, 28, said that she was blindfolded and dragged into a room at a home in Kenema by up to five or six cutters.
"One sat on my chest, one each held my hands. Another two held my legs and spread them open. They gagged me as I shouted. Then she [Ms Kondoromoh] started cutting," Ms Allieu told the BBC.
"I felt her cut towards my vagina. She dipped her hand inside my vagina and I felt her pull something and cut it. They held my head down and continued cutting. I started bleeding profusely. I tried screaming but there was [a] cloth inside my mouth," she added.
Ms Kondoromoh has denied any wrongdoing but has admitted to circumcising her.
She said that Ms Allieu met her at her home saying that she was being "taunted" by her fellow women because she had not been circumcised.
Types of FGM
•Clitoridectomy - partial or total removal of the clitoris
•Excision - removal of the clitoris and inner labia (lips), with or without the outer labia
•Infibulation - cutting, removing and sewing up the genitalia
•Any other type of intentional damage to the female genitalia (burning, scraping et cetera)
Ms Kondoromoh added that she cared for Ms Allieu after she was circumcised.
"She told me that she would be taunted and further provoked if she went back home and so wanted to spend time with me to recover," the cutter said.
"I told her she could stay with me as we were only three in my house. I bought provisions for her. I woke up every morning to prepare food for her before leaving home."
Our correspondent says police rescued Ms Allieu several days later after she managed to call them, and said they found her in a "weak and hopeless state".
Ms Allieu seemed to be in excruciating pain when he met her at a hospital, with medical staff describing her condition as serious but stable, he adds.
With fears for Ms Allieu's safety growing after a group of circumcisers went to the hospital with sticks to demand that she be handed over to them, activists are calling for her evacuation from Sierra Leone, our correspondent says.
Insp Tarawallie told the BBC that investigations were continuing.
She defended the decision to release Ms Kondoromoh from custody, saying that cutters "are around us".
"They were singing above their voices demanding that we should release that woman," Insp Tarawallie added.