Libya oil firm ships first barrels from seized terminal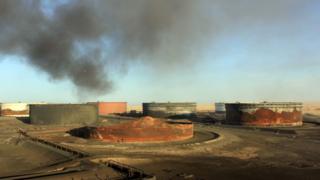 A Libyan company has exported the first barrels from oil terminals seized by a military force earlier this month.
The National Oil Corporation (NOC) has sent 776,000 barrels from Ras Lanuf to Italy, Libyan port officials said.
Forces loyal to Gen Khalifa Haftar took Ras Lanuf and two other terminals from a rival militia group allied to the UN-backed government in Tripoli.
Gen Haftar, who is allied to a rival government in the east, gave control of the ports to the NOC.
This is the first shipment of oil from Ras Lanuf since 2014, and the money generated by a resumption of lucrative oil exports is much needed in the conflict-hit country.
Port officials say a second tanker is being prepared to take oil to Spain.
The ports of Ras Lanuf, al-Sidra and Zuitina - known as the oil crescent - lie between Tripoli and Tobruk, where the country's two rival governments are based.
Oil exports were an important part of Libya's economy before the overthrow of Colonel Muammar Gaddafi in 2011.
Since then, the country has been divided between the rival governments and hundreds of militia forces.
General Khalifa Haftar is one of the most powerful military figures in Libya; he refuses to recognise the authority of the UN-backed Government of National Accord in the capital.
His forces took the terminals on 11-12 September in what the Tobruk parliament called a "liberation" from occupying forces.
The US, UK and several European countries issued a statement condemning the seizure of the oil terminals, calling on Gen Haftar to withdraw his forces.