Papa Wemba funeral held in DR Congo capital Kinshasa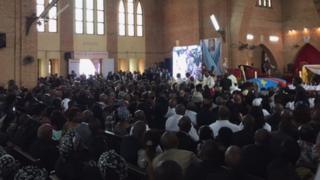 The funeral for one of Africa's biggest music stars, Papa Wemba, has been held in Kinshasa, capital of the Democratic Republic of Congo.
Large crowds gathered outside the Notre Dame Cathedral, where the private service took place.
It caps three days of commemorations attended by thousands of people.
Wemba, dubbed the king of Congolese rumba, died at the age of 66, after collapsing on stage in Ivory Coast on 24 April.
Mourners in DR Congo's second city of Lubumbashi also attended a final memorial service for Wemba on Wednesday.
"His angelic voice now returns to the place from which it first came," said Cardinal Monseno at the Kinshasa service, quoted by Africa News on Twitter.
---
Who was Papa Wemba?
Papa Wemba was born Shungu Wembadio Pene Kikumba in June 1949 in Lubefu, in what was then the Belgian Congo.
He was considered one of Africa's most influential musicians and pioneered modern Congolese soukous music, which spread through the continent.
In a career which spanned over four decades, he collaborated with stars like Peter Gabriel and Stevie Wonder.
What made Papa Wemba so influential?
---