Bin Laden death: CIA panned for 'live-tweeting' raid on anniversary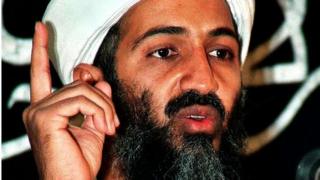 The US Central Intelligence Agency (CIA) has been criticised for live-tweeting the killing of Osama Bin Laden as if it were happening today.
It has shared details of the mission that led to America's most-wanted man being found five years ago in Pakistan.
But reaction has been largely negative, with one Twitter user calling the move "grotesque and embarrassing".
Others posted memes and gifs of people rolling their eyes and putting their heads in their hands.
The CIA's usual tweets mostly concern historical trivia and artefacts.
How the lives of Osama Bin Laden's neighbours changed forever
Bin Laden's death: How it happened
Have we been told the truth about Bin Laden's death?
The CIA's first 'live tweet', hashtagged #UBLRaid, begins: "1:25 pm EDT-@POTUS, DCIA Panetta, & JSOC commander Admiral McRaven approve execution of op in Abbottabad."
At 1:15pm "Helicopters depart from Afghanistan for compound in Abbottabad, Pakistan". Just under 90 minutes later, "2 helicopters descend on compound in Abbottabad, Pakistan. 1 crashes, but assault continues without delay or injury".
Osama Bin Laden is "found on third floor and killed" at 3:39pm.
The last tweet, at 7:01pm, reads: "@POTUS [President Obama] receives confirmation of high probability of positive identification of Usama Bin Ladin".
The tweets prompted an outpouring of criticism among Twitter users:
But some were more supportive:
The leader of al-Qaeda, who was thought to have ordered the 9/11 attacks on New York and Washington, was shot dead at a compound in Abbottabad, in May 2011 after evading capture by the US and its allies for nearly a decade.
Speaking on the fifth anniversary of his death, CIA director John Brennan said the United States had destroyed a large part of al-Qaeda but "it's not completely eliminated, so we have to stay focused on what it can do".
He said removing Bin Laden had a great symbolic and strategic effect on al-Qaeda and it was important to do the same thing with Abu Bakr al-Baghdadi, head of the so-called Islamic State (IS).
But, talking to NBC's Meet the Press show, he described IS as a "phenomenon" that had influence in many countries around the world "so we are going to have to remain very focused on destroying all the elements of that organisation".