Kenya bid to overturn gay sex ban filed in High Court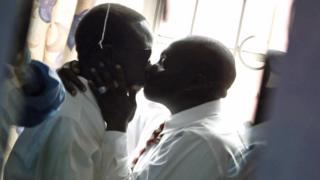 A gay rights campaign group has filed a case in Kenya's High Court calling for the decriminalisation of gay sex.
Homosexual acts are illegal in Kenya, punishable by up to 14 years in prison.
The National Gay and Lesbian Human Rights Commission says the law violates constitutional rights to equality, dignity and privacy.
Last year, Kenya's Deputy President William Ruto said there was no room for gay people in the country.
Most religious groups in Kenya and other African countries are strongly opposed to homosexuality, saying it is un-African.
Several people have been prosecuted in the last few years under Kenya's anti-gay penal code.
"Those laws degrade the inherent dignity of affected individuals by outlawing their most private and intimate means of self-expression," the group said in its petition.
Correction 18 April 2016: This story has been corrected to remove a reference to hundreds of people being prosecuted for having gay sex in Kenya.