Boko Haram crisis: 'Huge rise' in child suicide bombers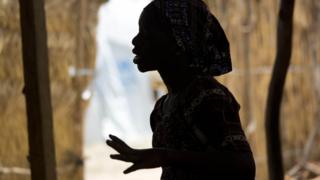 Boko Haram's use of child bombers has increased over the last year with one in five suicide attacks now done by children, the UN's child agency says.
Girls, who are often drugged, were behind three-quarters of such attacks committed by the militant Islamist group in Cameroon, Nigeria and Chad.
It is an 11-fold increase with four attacks in 2014 compared to 44 the next year, including January 2016.
The change in tactics reflects the loss of territory in Nigeria by the group.
The seven-year insurgency, which has mainly affected north-eastern Nigeria as well as its neighbours around Lake Chad, has left some 17,000 people dead.
Unicef says up to 1.3 million children have been forced from their homes across four countries: Cameroon, Chad, Nigeria and Niger.
---
More on Boko Haram's teenage bombers:
Hauwa: "They said since I refused to re-marry, I should take the bomb"
'How I almost became a suicide bomber'
---
The UN report has been released as Nigeria approaches the second anniversary of the kidnapping by Boko Haram of more than 200 girls from their boarding school in the Nigerian town of Chibok.
Their abduction sparked the global campaign Bring Back Our Girls, but none of the girls have yet been found.
The report, Beyond Chibok, says that boys abducted and recruited into Boko Haram's ranks are forced to attack their own families to demonstrate their loyalty.
Girls are exposed to severe abuse including sexual violence and forced marriage to fighters.
A 17-year-old girl who was abducted and is living with her baby in a camp in the Nigerian city of Maiduguri told Unicef that she refused to marry despite death threats.
"Then they came for me at night. They kept me locked in a house for over a month and told me: 'Whether you like it or not, we have already married you.'"
She says she has often been ostracised since her escape by other women who accuse her of being a "Boko Haram wife".
Boko Haram bombers:
151
suicide attacks in 2015
One in five were by children

75% of children used were girls
AFP
The girls who are used by Boko Haram for bombings are often drugged and then explosives are strapped to their bodies.
According to the report, Cameroon has the highest number of child suicide attacks, involving children who are as young as eight.
"As 'suicide' attacks involving children become commonplace, some communities are starting to see children as threats to their safety," Unicef's Manuel Fontaine said in a statement.
"This suspicion towards children can have destructive consequences; how can a community rebuild itself when it is casting out its own sisters, daughters and mothers?"
Boko Haram, which means "Western education is forbidden", has often targeted schools during its insurgency.
---
Education hit by Boko Haram:
Insecurity and attacks have kept more than 670,000 children out of the classrooms for more than a year
More than 1,800 schools remain closed
Many teachers fear returning to the classroom and parents are also scared of sending their children back to school
Last year, more than 250,000 children were able to return to schools in conflict-affected areas in north-east Nigeria
Source: Unicef
---
Unicef says more than 1,800 schools have been closed, damaged, looted, set on fire or used to shelter those left homeless in north-eastern Nigeria and Cameroon.
Children have also been separated by from their parents during the conflict, with Unicef putting the figure at more than 5,000.
Over the last 15 months, most of the areas controlled by the militants have been retaken by a multi-national force and the militants are now thought to operate from hideouts in Nigeria's Sambisa forest, near the border with Cameroon.
The report says the frequency of all suicide bombings increased from 32 in 2014 to 151 last year, giving this breakdown:
89 in Nigeria
39 in Cameroon
16 in Chad
Seven in Niger.
---
Boko Haram at a glance:
Founded in 2002, initially focused on opposing Western-style education - Boko Haram means "Western education is forbidden" in the Hausa language
Launched military operations in 2009
Thousands killed, mostly in north-eastern Nigeria, hundreds abducted, including at least 200 schoolgirls
Joined so-called Islamic State, now calls itself IS's "West African province"
Seized large area in north-east, where it declared caliphate
Regional force has retaken most territory last year
Town divided by Boko Haram legacy
---