Kenya exam board KNEC sacked over cheating allegations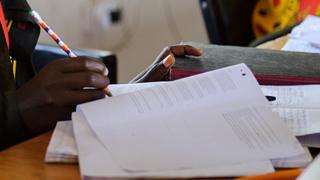 Kenya's schools exam board has been dissolved over "irregularities" in last year's secondary school exams, which saw 5,000 results cancelled.
The BBC's Ruth Nesoba in the capital, Nairobi, says that exam papers were shared on WhatsApp before exams.
She adds that many Kenyans are now questioning the credibility of the results.
The chief executive and eight other KNEC officials have been ordered to make police statements.
Is Kenya serious about tackling corruption?
Questions were being sold for 1,000 Kenyan shillings ($10; £7), The Kenyan newspaper The Nation reported in October.
KNEC (Kenya National Examinations Council) head said in reaction that the questions were fake.
He urged students not to trust the questions being shared on WhatsApp and went ahead with the exams which he insisted were credible.
However, when the results were released at the beginning of March Education Cabinet Secretary Fred Matiang'i announced that more than 5,000 exams had been cancelled, local media reported.
He said that was a 70% rise in the number of cheating cases witnessed compared to 2014, reported Kenya's Capital FM.