Kenya investigates Nairobi airport attack leak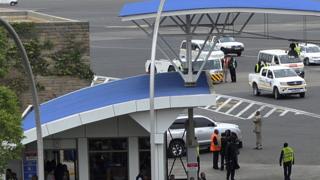 Kenyan Airports Authority is investigating a leaked memo warning of planned al-Shabab attacks.
The unconfirmed memo about attacks on the country's airports was released without verification, said the KAA.
Although security has been tightened, Kenyan airports are not under imminent threat, it said.
Issued on Friday, the internal memo based on intelligence reports, was leaked to a local radio station and has been widely circulated on social media.
When asked about imminent threats, Kenya Airport Authority Chief of Security Erick Kiraithe, said: "We are not overlooking the current global terrorism situation" but clarified that "at this point in time, there is no credible information."
Kenya Airport Authority's managing director Yatich Kangungo told BBC's David Wafula that they are narrowing down the search for the officer who breached protocol and leaked the memo.
This incident comes at a time when the Inspector of Police Joseph Boinet confirmed that al-Shabab after releasing a related video, is keen on attacking security targets in northern Kenyan counties, coastal areas and major cities.
Al-Shabab has staged several deadly attacks in Kenya in recent years, since Kenya sent troops to tackle it in Somalia.