Mali jihadist mortar attack kills five UN peacekeepers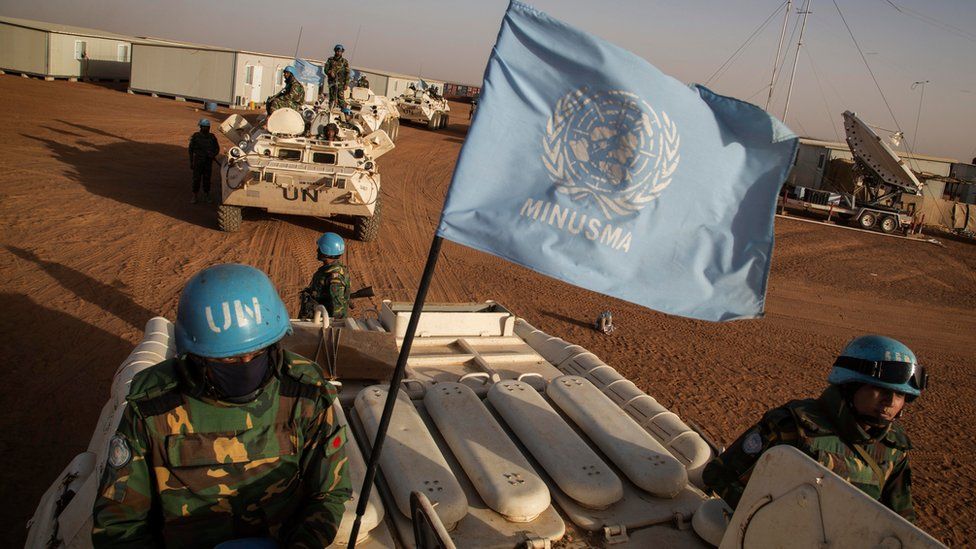 Five UN peacekeepers have been killed in a mortar attack on their base in Kidal in northern Mali.
Thirty others were hurt when militants used a van packed with explosives to ram the Kidal base, before attacking it with mortar and machine gunfire.
Mali jihadist group Ansar Dine said it carried out an attack.
UN Secretary-General Ban Ki-Moon has condemned the assault - the latest in what has become the most dangerous of the UN's current peacekeeping missions.
The UN is trying to restore peace to the north, which was overrun in 2012 by jihadists and ethnic Tuareg groups.
The al-Qaeda-linked insurgents, who fell out with Tuareg separatists, were ousted from northern towns by a French led-force in 2013.
Ansar Dine claimed the attack by a "Mauritanian jihadist" as "a message to the crusader aggressors and all those who support them" in a statement carried by a Mauritanian news agency.
The group is responsible for several previous assaults.
Last June, Tuareg-led rebels and other Arab groups seeking more autonomy for the north signed a ceasefire agreement with the government.
UN chief Ban Ki-moon says attacks on peacekeepers "constitute a war crime," and will not deter them from supporting the Malian government.
Three of those killed on Friday were from Guinea. The nationalities of the other dead and wounded have not been revealed.
The attack in Kidal comes 48 hours after the UN representative in the country, Mahamat Saleh Annadif, visited the area.
It is the latest in a series of attacks on the UN force, made up of 10,000 soldiers from dozens of different contributor countries - the majority from Mali's West African neighbours.
"This serious act reflects the disarray of the enemies of peace since it comes at a time when the implementation of the peace agreement increasingly becomes a reality in Mali," Mr Annadif said in a statement.
In a separate incident, three Malian soldiers were killed in an ambush on a military convoy near Timbuktu. It is not clear who is behind the attack.
October 2011: Ethnic Tuaregs launch rebellion after returning with arms from Libya
March 2012: Army coup over government's handling of rebellion, a month later Tuareg and al-Qaeda-linked fighters seize control of north
June 2012: Islamist groups capture Timbuktu, Kidal and Gao from Tuaregs, start to destroy Muslim shrines and manuscripts and impose Sharia
January 2013: Islamist fighters capture a central town, raising fears they could reach Bamako. Mali requests French help
July 2013: UN force, now totalling about 12,000, takes over responsibility for securing the north after Islamists routed from towns
July 2014: France launches an operation in the Sahel to stem jihadist groups
Attacks continue in northern desert area, blamed on Tuareg and Islamist groups
June 2015: Tuareg and northern Arab groups sign peace deal
2015: Terror attacks in the capital, Bamako, and central Mali