Nigerian herdsmen kill 20 in 'revenge' attack in Adamawa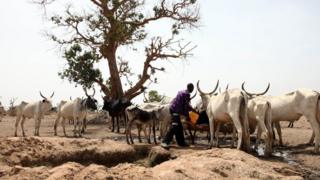 At least 20 people, including a police chief, were killed in early morning attacks on four villages in northern Nigeria, police say.
Local media say as many as 29 people were killed in the attack by suspected herdsmen from the Fulani ethnic group and police were caught in an ambush.
Unconfirmed reports suggest the herdsmen were acting in revenge.
The BBC's Ishaq Khalid says there is an ongoing conflict between herdsmen and farmers over land and grazing rights.
This particular feud was over the destruction of farm crops, police spokesman Othman Abubakar told AFP news agency.
Mr Abubakar said the gunmen had looted food supplies and set fire to homes before fleeing on Sunday morning.
The police chief of Girei town, in Adamawa State, was killed when police had been ambushed on the way to the site of the attack, he added
One suspect has been arrested.