Swiss woman kidnapped from Mali home in Timbuktu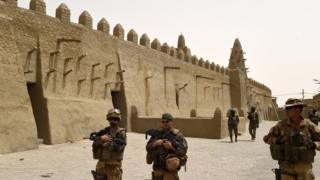 A Swiss woman has been kidnapped from her home in the northern Malian town of Timbuktu, security officials say.
Sources told the AFP news agency that she is the same missionary who was held for more than a week by Islamist gunmen in 2012 when the north had been taken over by groups linked to al-Qaeda.
On that occasion the woman was freed with the help of mediators from neighbouring Burkina Faso.
A French-led operation in 2013 drove Islamist fighters from northern towns.
A 12,000-strong UN peacekeeping force has now been deployed there, but militant groups are still active in the vast desert region.
Souleymane Maiga, a spokesman for the Malian army, told Reuters new agency that the Swiss national was taken from her house in the historic city on Thursday night.
A Timbuktu government official told AFP she was "Beatrice, a Swiss citizen".
Beatrice Stockly was seized by Islamist group Ansar Dine group in 2012.
According to AFP, two foreign hostages seized in 2011 by members of al-Qaeda in the Islamic Maghreb (AQIM), a South African and a Swede, are still in captivity.
---
Militancy in Mali
October 2011: Ethnic Tuaregs launch rebellion after returning with arms from Libya
March 2012: Army coup over government's handling of rebellion, a month later Tuareg and al-Qaeda-linked fighters seize control of north
June 2012: Islamist groups capture Timbuktu, Kidal and Gao from Tuaregs, start to destroy Muslim shrines and manuscripts and impose Sharia
January 2013: Islamist fighters capture a central town, raising fears they could reach Bamako. Mali requests French help
July 2013: UN force, now totalling about 12,000, takes over responsibility for securing the north after Islamists routed from towns
July 2014: France launches an operation in the Sahel to stem jihadist groups
Attacks continue in northern desert area, blamed on Tuareg and Islamist groups
2015: Several terror attacks in the capital, Bamako, and central Mali
---