The good, the bad and the ugly from Tokyo Sexwale's Fifa manifesto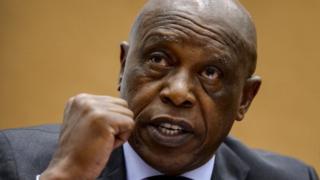 Africa's two candidates for the presidency of world football governing body Fifa have experienced different fortunes of late.
While Liberian Musa Bility was judged ineligible to stand after failing Fifa's integrity checks (with an appeal still possible), South Africa's Tokyo Sexwale has made the five-man shortlist.
The 62-year-old has published his manifesto but sprinkled with poor spelling and grammar, and some controversial ideas, will it harm him more than help him?
---
The Good
Let us start with the positives. Sexwale has actually published a manifesto - which not all Fifa presidential candidates ever do.
Did you see Sepp Blatter's ahead of the elections in May? Me neither.
The South African is also on message with the prevailing mood from football fans looking in as Fifa's mess becomes something of a Herculean task to clear.
"The watchword is Transparency," he writes, which may win him approval outside the Fifa family but whether insiders have real desire to clean up their act has been a moot point in recent years.
Vouching for transparency is an easy desire, but one of his other stated aims is anything but.
Sexwale says he wants to address the imbalance in the global make-up of football - particularly regarding the distorted number of places given to confederations for both the World Cup finals and the executive committee (Exco).
"Fifa needs to take a hard look, with sensitivity, at these imbalances - not in opposition to any grouping but in favour of football," the manifesto states.
It doesn't take Hercule Poirot to work out which confederation he is talking about - namely, Uefa, which has 13 World Cup places and seven on the Exco out of 53 members.
Contrast that to Africa, say, which has more members - 54 - but just five World Cup slots, and only four on the all-powerful executive.
In a bid to win votes however, it's a smart move given the prevailing feeling - outside Europe - that a European should not win February's presidential election.
That aside, Sexwale lists various laudable schemes.
These range from the innovative - such as the desire for all FA presidents to have "direct tele-contact with myself" - to the long overdue, namely a stated aim to tackle the growing problem of child trafficking in the game (which Fifa is struggling to handle).
As one might expect from a man famed for his anti-apartheid past, there's also the wish to make "anti-racism occupy centre stage" while Sexwale also wants to expand women's football and oversee a fairer distribution of Fifa's wealth (ie financially favouring the poorer nations over the richer ones).
So far, so good.
---
The Bad
All the above may be outshone by the fact that Sexwale has mooted the possibility of having advertising on national team jerseys.
This is a hugely controversial idea that is unlikely to sit well with global football fans, many of whom already believe the game's sanctity has been sold out for money.
National team jerseys are sacrosanct in many people's eyes and should never stoop to having a sponsor. The suggestion may make economic sense but for a global organisation that makes billions of dollars, this prospect should never be on the table.
Nonetheless, a strong financial bent sings out from Sexwale, who has extensive experience of running big businesses.
"There is room for more growth and development. This is my strategic priority," said the man with huge personal wealth.
While shirt sponsorship may be his most controversial idea, an army of fans may also rail against his suggestion to expand the World Cup from its current 32 teams.
Many believe the World Cup is already too bloated, as a result of Fifa's relentless drive to both win political votes (by enabling member states to have more World Cup slots to aim for) and increase the money earned through television and advertising - given that more games equals more advertising which equals more money for the corporate world.
Despite the potential anger of some fans, this idea may be - sadly, in my opinion - a vote winner for many member states.
---
The Ugly
Unfortunately, one thing that stands out is the manifesto's poor grammar, spelling and inexcusable errors.
Real Madrid's home is spelt as the Benebeau, not the Bernabeu, while the number of global Fifa members is sometimes said to be 205 but is the correct tally in other places (209).
Elsewhere, the South American confederation is called both CONNEBOL (wrong) and CONMEBOL (right), while the same applies to Oceania (correct) and Oceana.
It's an attention to detail that Sexwale, seen by some as a football outsider, will need to improve if he is to persuade the football fraternity that he's the best man to replace Blatter.