South Africa's Nzimande offers to cap student fees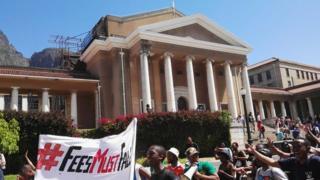 South African Higher Education Minister Blade Nzimande has resolved to cap tuition fee increases at 6% for 2016.
Proposed tuition fee hikes of between 10% and 12% have sparked protests at universities across the country.
University of Cape Town (UCT) students who were arrested because of the demonstrations have been released, but have to appear in court next week.
Police arrested more than 20 students after they defied a court order, declaring their action unlawful.
The protests have affected at least seven universities, including Wits in the main city, Johannesburg.
Some student leaders - including those linked to the leftwing opposition Economic Freedom Fighters (EFF) party - rejected the minster's offer, which he made after talks with university officials.
"They know very well that we can't afford 6%. We want free quality education," Wits EFF chairperson Vuyani Pambo told Reuters news agency.
Mr Nzimande has said the government could not afford to provide free education for poor students.
Students say the fee hikes amount to discrimination in a country where the average income of black families is far less than that of white families.
---
Student voices:
Akosua Koranteng, UCT
"This is a fight not just against fees but against the system of economic, social and racial exclusion that is responsible for the high inequality and poverty.
"We are fighting against oppressive university practices such as the unfair treatment of workers, institutional racism and exorbitant high fees that cause students to be financially excluded from university. We are on a greater mission of decolonising the academy so that our universities will serve the masses."
Lauren Hess, Stellenbosch
"Many students are in complete shock about the lengths management has gone to in order not to meet with students and about seeing our fellow students being put in chokeholds by police.
"Many are angry that their legitimate concerns have been dismissed in such a violent manner and this has cemented their resolve to make the university 'ungovernable'."
---
The protests are the biggest by university students since apartheid ended in 1994.
They started at Wits last week before spreading to UCT, Rhodes, Stellenbosch, Fort Hare, the Free State and the Cape Peninsula University of Technology.
The protests have also sparked wide reaction on social media under the hashtag #FeesMustFall.
Some universities have been forced to shut down, as students burnt barricades and stormed buildings.
At UCT, police fired stun grenades to disperse protesters who defied a court order preventing the disruption of lectures, the public broadcaster, SABC reports.
The protest at the University of Witwatersrand has continued, despite its management agreeing to suspend the increase in fees until talks place.