Burundi crisis: Nkurunziza aides and coup plotter face EU sanctions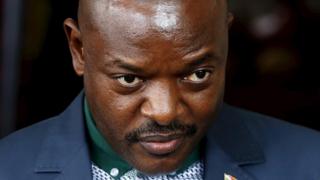 The EU has imposed an asset freeze and travel ban on three Burundi officials accused of ordering excessive force against peaceful protestors.
The officials - overseeing intelligence and security bodies - are close to President Pierre Nkurunziza.
The EU has also imposed sanctions on a former general who took part in a failed coup in May.
Burundi's foreign minister has defended the use of force, saying the demonstrations were violent.
President Nkurunziza's decision to pursue a third term in office triggered street protests and the coup attempt.
Opponents of the president say the decision was unconstitutional.
Following the failed coup in May, the president went to win an election.
Unrest continued in the central African country, with more than 100 people reported to have been killed over the summer.
On Friday, the EU announced sanctions against:
Godefroid Bizimana, the deputy head of the national police, accused of decisions that led to the "disproportionate use of force and acts of violent repression" towards peaceful demonstrations
Gervais Ndirakobuca, a cabinet official responsible for police matters, accused of giving instructions that prompted violations of international human rights law
Joseph Niyonzima, a senior intelligence official accused of arming and training a pro-government militia
Leonard Ngendakumana, a former general who took part in the coup, accused of "obstructing the search for a political solution"
Belgium - Burundi's former colonial power - has meanwhile said it will suspend aid for some development projects in the country because of the recent political instability.
Burundi: Key facts
The country is facing its worst turmoil since the 12-year civil war ended in 2005
10.4m population

50 years - life expectancy for a man

2nd poorest country in the world

85% are Hutu, 14% Tutsi

300,000 died in civil war
Foreign Minister Alain Nyamitwe told the BBC's Kirundi service that the force used was justified, because the protests were violent and had been preventing people from going about their daily business in the capital, Bujumbura.
Burundi this week accused Rwanda of training rebels plotting to destabilise the country - charges Rwanda has denied.
---
Eyewitness to Burundi killing: Prime Ndikumagenge, BBC Africa, Bujumbura
I have never before been so close to a violent attack. But on Friday morning, a colleague and I were having a coffee in a hotel restaurant when just a few metres away two people were gunned down.
The gunshots were deafening, and it was like they were coming from all around - this did not sound like an ordinary pistol, but a high-calibre weapon. Everyone in the restaurant got down on the floor and we held our breath.
Then a grenade went off, and then there was more gunfire. After a few minutes of silence we timidly ventured out and saw the macabre scene: Two bullet-riddled bodies. One victim was the owner of a local bureau de change, the other his employee.
It may just have been a robbery, but it comes at a time of a lot of political killings. Increasingly here in the capital, Bujumbura, and elsewhere in Burundi, life seems to be getting cheaper.
President Pierre Nkurunziza has promised to get rid of the weapons out of the hands of criminals. I hope this becomes a reality.
---