Zimbabwe baboons take YA FM breakfast show off air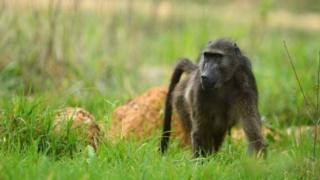 Baboons have briefly forced a radio station off air in Zimbabwe after apparently eating the station's transmission cables.
YA FM radio station head Munyaradzi Hwengwere said he first thought the show had gone off air due to a power cut, the Chronicle newspaper reports.
However, it turned out that baboons had chewed through the station's fibre optic cables in a mountainous area near the central town of Zvishavane.
YA FM launched last weekend.
"I'm told there were more than five of them that ate into the cable," Mr Hwengwere said, adding that the breakfast show remained off air for an hour.
"When we got to the tower, we saw the baboons scurrying away," he added.