Cheetah attack survivor: Boy's parents want cat freed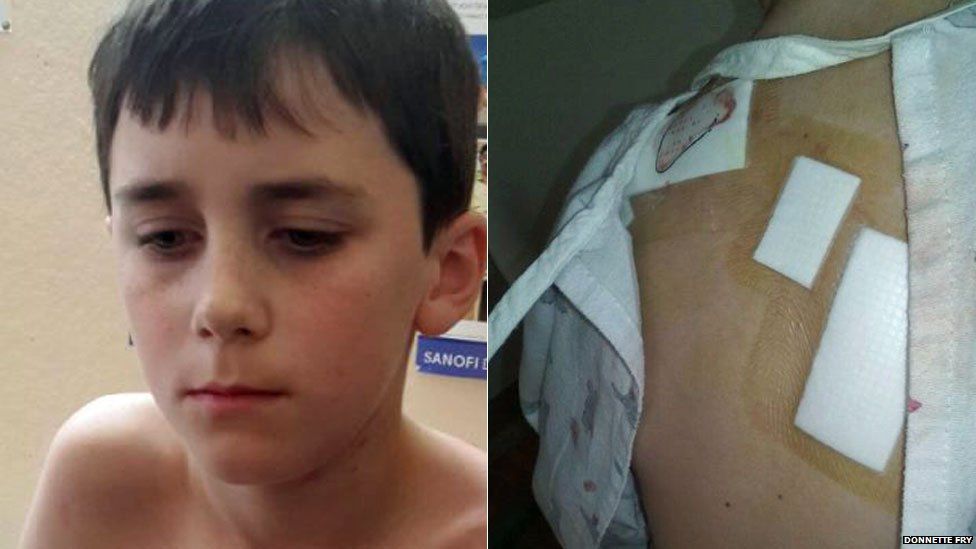 The parents of a 10-year-old boy bitten by a cheetah in a South African breeding sanctuary have told the BBC that they want it freed into the wild.
Craig and Donnette Fry said the cheetah ran at his enclosure at about 80km/h (50mph), bending the fence and managing to get his head and paws through.
The cat then bit the shoulder of Aiden Fry, who was on a school trip to the Nambiti Game Reserve near Ladysmith.
But the Frys said they did not blame the male cheetah for the incident.
It was part of a cheetah breeding project and Mr Fry said it was time it was released into the wild.
"We want the cheetah to be protected and placed in an environment where he needs to be," Mrs Fry added.
'Punched the cheetah's face'
They were also shocked by the "severity of the injuries", which were deep and not just flesh wounds.
"The call that I got was that there had been an incident and that a cheetah tried to play with his backpack and he had a few scratches," Mrs Fry said.
"Instead of bringing Aiden home the school decided to carry on with the tour," she said.
Aiden, who has grown up with wildlife, is said to be feeling better but is now scared of cheetahs.
A handler eventually managed to release him by sticking fingers up the cheetah's nose, the paper reports.
His parents said they would take Aiden to a psychologist to help him get over the attack.
Mrs Fry added that his backpack had "sustained no injuries".
Related Internet Links
The BBC is not responsible for the content of external sites.