Marikana mine deaths: Families seek compensation in South Africa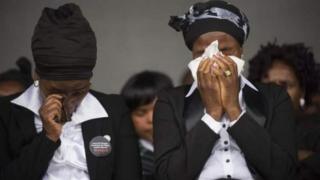 Families of 37 miners killed in Marikana in 2012 are suing the South African government for compensation, a support group has said.
They want to be compensated for loss of income and emotional shock, South Africa's Socio-Economic Rights Institute (Seri) said in a statement.
The mineworkers killed by police during a platinum mine strike supported 326 dependants between them, it said.
It was the deadliest police action in democratic South Africa.
A judge-led inquiry into the killing blamed a UK-based firm Lonmin, the police and unions for the "horrendous tragedy".
Last month, police chief Riah Phiyega said police management did not have "murderous intent" on the day of the shooting.
On 16 August 2012, officers shot dead 34 striking mineworkers at Lonmin's mine in Marikana - three other workers had been killed three days earlier.
"The majority of the deceased workers were the sole breadwinners of their families and supported large extended families on their meagre income," the Seri statement said.
It added that many of them remained "destitute" and "continue to live in unbearable conditions of grinding poverty".
They also want a formal apology from Police Minister Nathi Nhleko for the loss of their relatives.
But the statement did not say how much compensation was being sought.
The BBC's Nomsa Maseko in Johannesburg says the claim, which has been filed at the High Court in the capital, Pretoria, also has the support of South African human rights group Legal Resources Centre and the Wits Law Clinic at the University of the Witwatersrand.