Nigeria market blast 'kills 28 in Borno'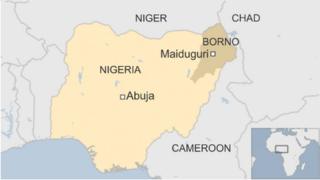 An explosion at a crowded market in the north-eastern Nigerian state of Borno has killed 28 people, officials in charge of the rescue effort say.
Nigeria's National Emergency Management Agency said 79 people were injured, 47 of whom were in a critical condition.
The blast struck Jagol GSM market in Sabon Gari town happened at about 13:30 local time (12:30 GMT) on Tuesday.
The authorities have blamed the Islamist Boko Haram militant group for the attack.
It appears the explosion in Sabon Gari, which is about 135km (85 miles) south of the regional capital of Maiduguri, was caused by a planted device.
Last year, the militants seized a huge area of the north-east before being beaten back by a regional coalition, including Cameroon, Chad and Niger.
Borno state has been at the centre of the insurgency, but in recent months Boko Haram has also targeted villages and towns in northern Cameroon as well as Chad and Niger.
Suicide bombings intensified after the new Nigerian President Muhammadu Buhari vowed to crush the group. Since he was sworn in last May, more than 800 people have been killed.