In pictures: My natural hair journey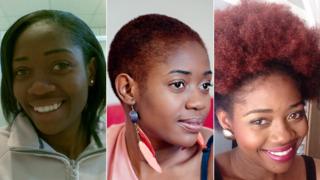 When Fify Loewen, a photographer from Botswana, decided to stop putting chemical relaxant on her hair, she had to confront the perception that natural hair is unkempt. But she also found that she couldn't even buy the products for natural hair in her country.
'Creamy crack'
'The Big Chop'
The long wait for hair to grow
The moisture retention challenge
'The length check'
Pressure to look 'professional'
And just in case you haven't had enough photos of Fify's hair journey...
Tell us your homemade hair product recipes by commenting on Facebook or tweeting us using the hashtag #HairTalks.