A taste of Ghana around the world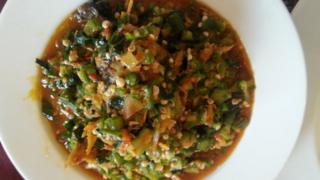 In our series of letters from African journalists, Ghanaian Elizabeth Ohene considers how travel and technology have changed eating habits.
I was out of Ghana for several weeks and it was strange how this did not make much difference to what I ate.
Time was when what you ate depended very much on where you were and missing home had a lot to do with missing the food you were used to.
The Chinese and Indians are probably the most adept at it but the rest of us are certainly catching up. The "it" here being the ability to create their own foods wherever they are.
There cannot be many towns in the world without a Chinese or Indian restaurant, which soon get popular with locals.
Before the 1980s, it was difficult to find Ghanaian food in Europe and the US because of the few number of Ghanaians living there.
People went to great lengths to find substitutes to simulate Ghanaian foods; potato flour and farina were used to make fufu, which is a Ghanaian staple made by pounding boiled yam or cassava plus plantain or cocoyam.
It also became accepted that you did not need a mortar and pestle to make fufu and the pounding process was eliminated completely.
Or take another staple, kenkey, usually made from fermented corn dough - a version of it emerged from a special corn flour said to originate from Native Americans.
In the days when someone was lucky enough to take delivery of some genuine foodstuff from home, friends were called over for a meal because it would have been deemed the height of selfishness to eat the real thing by yourself.
I recall that in the early to middle 1980s, when I lived in London, there were maybe three shops where you could buy Ghanaian foodstuff and because they were so expensive, it was not a regular indulgence.
As the numbers of Ghanaians abroad increased, and transportation became easier and cheaper, more shops emerged and the availability of the foodstuffs became more widespread.
Gradually there was no need to substitute ingredients because you could find a shop that catered to the most peculiar Ghanaian tastes anywhere in the world.
And now technology and television have taken the fear out of cooking and anybody can be talked through the preparation of the most complicated Ghanaian dish.
---
Elizabeth Ohene:
Who would have thought that anybody would tolerate fufu made in a microwave?
---
My favourite online expert on Ghanaian food is Fran Osseo-Asare, who makes it all seem so easy because she learnt it all from scratch as an American who married a Ghanaian.
Even the making of groundnut soup no longer carries any fears as there are so many YouTube versions to follow.
To think that once upon a time, every Ghanaian girl who did not want to spend time in the kitchen was threatened with being sent back home by a disgruntled husband after an inevitable disaster trying to make groundnut soup for the first time.
Ever so gradually the preparation of our foods is being influenced by those who cook in atmospheres different from what exists in Ghana.
Who would have thought that anybody would tolerate fufu made in a microwave, but having started abroad, it is happening now in Ghana.
As I travel around and eat Ghanaian foods at the most unexpected places around the globe, I notice that the Ghanaians abroad regard it as the height of luxury to offer what is regarded as the cheapest food in Ghana and eaten by the poorest of the poor.
And to think that when I do get back home, the height of luxury food will be whatever foreign food we can find in Ghana.
It must be said, though, that travelling has been made so much more tolerable now that one is able to carry a taste of Ghana wherever one goes.