Rwanda outgrows its genocide orphanages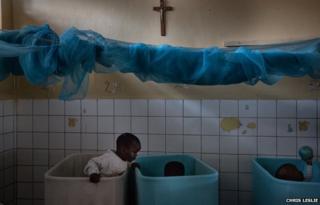 Before the Rwandan genocide orphanages were virtually unheard of - with only four spread across the country.
Rwandans had a saying "no orphans in our community" and neighbours would take in other people's children.
It was not a job they were paid to do, but simply part of the culture.
But one of the hangovers of 1994 - when at least 800,000 ethnic Tutsis and moderate Hutus died over a 100-day period - has been the proliferation of privately run children's homes.
Today there are 30 orphanages in the small East African country, housing around 3,000 children.
"After the genocide there were many orphans and children separated from their parents," says Claudine Nyinawagaga, the Rwanda country director for Hope and Homes for Children, a non-government organisation (NGO).
"The government had to deal with many issues - almost everyone in the country was either a victim of, or participated in the genocide - [the government] had to rebuild the country, so children were a low priority.
"The easiest thing to do back then was to send them to orphanages."
Now the government says it wants to see all orphanages closed by 2020.
Hope and Homes for Children backs the initiative and is helping to place children with families.
'Quick fix'
But for Ms Nyinawagaga, a Tutsi, the work has a tragic personal twist.
In April 1994, she was newly married with an infant son and living in the capital, Kigali, where she had planned to do a PhD in economics.
The rest of her family still lived in the Rubavu district in the west of the country.
"At the start of the genocide, I called home - they said my mother and nephew had already been killed," she says.
"My mother was hacked to death by a neighbour using a machete."
Other members of her family were killed in the church.
The only survivors were her nieces and nephews, some of whom were so young "they can't remember the face of their mother".
They were hidden in Rubavu's Noel Orphanage, one of the very institutions that she is working to shut.
But as far as she is concerned the orphanages have served their purpose.
The genocide orphans have grown up, and today children's home are regarded as a "quick fix" for the country's poor and vulnerable.
"Many of the children living in them aren't orphans and even those who are would normally have been cared for by the community," says Ms Nyinawagaga.
'Make money'
The problem is poverty. Rwanda may have one of Africa's fastest-growing economies but just under half the population, especially those in rural areas, live below the poverty line and many families give up their children believing they are too poor to look after them.
Even problems like having difficulty with breastfeeding can see children left in an orphanage.
Campaigners wanting them closed also point out that they are businesses.
According to Ms Nyinawagaga, for every $100 (£67) donated to organisations running orphanages only about $40 goes towards caring for the child.
"They make money for people… People can be naive about where the money goes," she says.
This means the people behind them do not want to see them close down - though none I visited wished to comment about the government's policy.
The orphanages are often not comparable to institutions in the developed world - with residents ranging in age from a few months old to those in their 40s.
No toys
Close to the border with the Democratic Republic of the Congo, the Noel Orphanage still stands, until recently housing about 100 children and disabled adults.
Toddlers lie in rows of plastic cots; one blind infant rocks herself repeatedly, simulating the affection that a parent would normally give.
In the rooms, the floor is made of concrete. There are no toys. Outside resembles a stable, with mud everywhere.
One eight-year-old girl explains she has no mother. Her father is alive, but he is not ready to care for her.
In another room, a group of older children and young adults with mild-to-moderate disabilities sit. The stench from the room resembles a farm yard; the conditions are barely suitable for animals.
They have nothing to do, but sit in this room.
The manager of Noel refused to talk, but a worker who did not want to be identified said: "Some here are just waiting to die. In fact some would be better off dead".
The hope is that the Noel Orphanage will be closed by April, with children placed with either their birth families or alternative family-based care - at the moment only the disabled children and adults remain.
Although fostering is not paid for in Rwanda, the country is coming full circle - back to its traditional values of childcare.
After the genocide, Ms Nyinawagaga fostered 13 members of her extended family, something she modestly explains is "just normal".
In place of the orphanages, the Rwanda government is building community hubs to support parents going to work.
Over the last four years, eight have been established around the country.
Built by NGOs, they are funded by the local authorities to provide support for families, including for children with disabilities.
If Rwanda is successful in closing all its orphanages by 2020, it will become the first African country to do so, something Ms Nyinawagaga hopes will help move the country "from the negative of the genocide to a positive future".