After the revolution, what next for Burkina Faso?
By Laeila Adjovi
BBC Africa, Ougadougou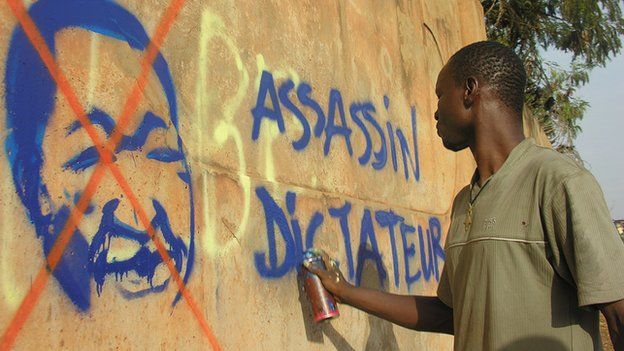 Some called it an uprising. He calls it a revolution. Last October, graffiti artist Dera Issaka, alias Deris, covered the walls of Burkina Faso's capital with political slogans.
He also attended the massive protests that forced President Blaise Compaore out after 27 years in power.
In October, Dera Issaka did not sleep for almost a week. Three nights in a row, he strode along the streets of Ouagadougou, painting the walls with graffiti art and subversive slogans.
"My art is not just about embellishing walls, it is about expressing my opinion," he told the BBC. I needed to express that overdose of the regime, like the rest of the population."
Blue stencil paintings of the former president's face crossed out in red can still be seen all over town. Next to them, Deris and other members of his art collective, added angry comments: "Blaise, beat it", "Blaise, dictator", "Blaise is the real thug".
Dera Issaka is 30. He did not attend school for a very long time. But still longer than most of his eight brothers and sisters. A self-taught graffiti artist, he works as an illustrator for graphic novels.
Last October, he had landed a contract with a French production house for an animated movie. But it was a contract that he could not complete.
"You only have a choice to work in peace for your job if the political situation allows it," he said.
After days of unrest in Burkina Faso, 30 October was supposed to be the day of the vote for the constitutional change. Blaise Compaore was going to be permitted to stand in office again.
"On the morning of 30 October, I got up and saw my father listening to the radio," Deris says. "He knew I was going out for the revolution.
"He did not try to stop me. He just asked me to be careful, and wished for God to help us."
In the end, there was no vote. The parliament house was torched, as were the headquarters of the ruling party. Protesters also stormed into the national TV broadcasting station and then moved on the presidential palace.
"I am actually surprised that they were not more deaths during the protests," says Deris.
Around 30 people died, according to the local press - about a dozen from gunshots wounds during the confrontation with security forces.
At the end of that day, the news broke. Blaise Compaore was stepping down.
Deris remembers: "I cried. I cried with joy, fatigue and relief. I was so proud and relieved to have gone through all of that and still be alive."
The resignation announcement only brought more confusion. One general proclaimed himself interim president, then another.
On 1 November, Colonel Isaac Zida was confirmed as the new head of state, before a civilian-led transitional government was finally put in place.
"We did not wish for another military [person] to seize power, but we need things to stabilise," explains Deris.
In Burkina Faso's political history, the military have never stood very far from political power.
Last February, four months into the transition, protests were organised against the very influential presidential guard - the one that had shot protesters last October.
"The role of the military really worries me. I always follow the motto: 'Hope for the best but prepare for the worst'," Deris says.
What brings hope to the young man is that civil society is now stronger.
"Before last October, the people of Burkina were not united around one goal. Now we are," he says. "Civil society movements like the Citizen Broom will keep their watch, and help make propositions."
Citizen Broom was one of the movements at the forefront of the protests last autumn. Now the movement is campaigning to encourage young people to enrol on electoral lists.
"We encouraged young people to rise and protest," says Dramane Zinaba, national coordinator of Citizen Broom. "Now we want to keep them mobilised. They need to get their weapon, their voter's card, to bring real change in 2015."
But Deris knows the struggle for a better democracy is far from over.
"We have to stay awake. On 31 October we were told that nothing would ever be the same. But it is not enough to just say it. Immense tasks are awaiting us," warns Deris.
The transitional government would not disagree. Its priorities are to organise the next elections, but also to reopen important judicial cases, and implement significant reforms. A new bill to fight corruption was voted through earlier this month.
Delays in the schedule of the transition have been deplored. But authorities have insisted that the presidential and parliamentary elections will take place as planned, on 11 October.
Deris already has his voter's card. But he keeps his guard up. To dismantle the privileges entrenched in a 27-year-old political system cannot be done overnight. For the young activist, the fight against corruption is the top priority.
"If the next president is selfless, if he fights against corruption and impunity and for more justice - then, are we allowed to dream," he says.
Six months from now, Deris will know if he can really rest and dream. Or if he has to go back to his sleepless nights.