Ebola crisis: BBC digital conference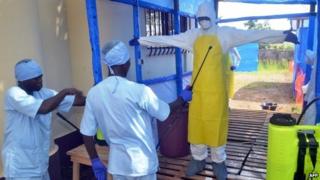 The BBC World Service is holding a one-day digital conference on Ebola on Tuesday 3 March and we are looking for your comments and questions.
Some of the key decision-makers in the fight against Ebola will be answering your questions.
The EU is holding a donor conference on Ebola at the same time in Brussels.
You can take part in live question and answer sessions in both English and French on the Facebook pages of BBC World News, BBC Afrique and BBC Ebola.
Guests at the conference, themed "Getting to zero and rebuilding for the future", will include David Nabarro, UN Special Envoy on Ebola; UNDP Administrator Helen Clark; and government representatives from the three most affected countries: Guinea, Liberia and Sierra Leone.
The day will end with a Google Hangout, titled "Ebola: What lessons have we learned?" with contributions from David Miliband, head of the International Rescue Committee and other guests.
Discussions will continue through the day on @BBCAfrica and @BBCAfrique.
Tweet your comments and questions using the hashtag #BBCEbola or add your question to the Facebook Q&A