South Africa parliament ruckus is a noisy new low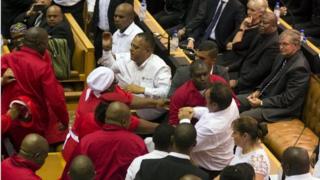 The clouds were sliding, majestically, down the slopes of Table Mountain.
There were brass bands outside the parliament below. A red carpet on the cobbles.
And a steady procession of dignitaries - all dressed to impress.
South Africa does this sort of thing well. World Cups, state funerals, pageantry... the "rainbow nation" still in thrall to its own miraculous journey.
But things are changing here.
I was sitting in the press gallery overlooking the parliamentary chamber when I noticed my cell phone wasn't working.
Nor was anyone else's.
In a few minutes' time, President Jacob Zuma was due to deliver his annual State of the Nation address.
It is normally a rather bland affair. Sweeping promises. Polite applause.
But today - the nation was poised for a showdown.
Smelling blood
In recent months Mr Zuma has been ducking an important issue. He's been ordered to pay back public money spent on lavish renovations to his private rural home in Nkandla.
In a country where corruption scandals are often murky, complicated affairs - Nkandla is pleasing straightforward. We've all seen the president's new amphitheatre, his swimming pool, built courtesy of the taxpayer.
Mr Zuma insists he's in the clear.
But privately even his closest aides admit he should pay up. He's just stubborn, one told me gloomily.
And so - smelling blood - a group of opposition MPs announced plans to disrupt President Zuma's speech to parliament by demanding that he reveal exactly when he plans to pay back the money.
Which brings us to the telephones.
"Why do you always look for a conspiracy?", one of the president's staff asked me irritably when we started wondering if the signal was being jammed.
But before long it became clear that it was indeed a conspiracy. A jamming device had been switched on; a clumsy, unprecedented attempt to prevent the outside world from learning about any trouble that might crop up in parliament.
Things quickly started getting noisy - as they usually do here.
The journalists stood and shouted: "Bring back the signal!" Opposition MPs joined in the chorus.
From the government benches, came a different chant: "ANC! ANC!"
Gloomy
Ministers started passing notes. One of them left the chamber. Suddenly, the speaker of parliament announced that the scrambling... had been "unscrambled." The phones were back on.
President Zuma stood, and began to read his speech.
If you were to choose a righteous public figure to hold South Africa's rulers to account, you probably wouldn't pick Julius Malema.
He's a brash, bullying figure. Expelled from the ANC, he's since formed his own small party, the Economic Freedom Fighters.
Mr Malema's critics say he's a dictator in the making. But it seems unlikely he'll get that far. He makes enemies too quickly. And he's facing serious criminal charges of his own - of racketeering and fraud.
But when Julius Malema stood up in parliament on Thursday evening and demanded to be heard it felt, for a moment, like he was doing so on behalf of many South Africans.
The country is in a gloomy mood right now. There are daily power cuts. Foreign investors are losing patience. And after two decades in power, the ANC seems to have lost its way - the Nkandla scandal just one of many glaring examples.
The question preoccupying many here is how will the ANC deal with the possibility - you might say the inevitability - of losing power?
Will it stick to the rules, or will it dig its heels in?
Suddenly, the chamber was full of police and security guards. White shirts surrounding the red uniforms of the EFF's MPs.
From above, it looked like a colour-coordinated bar-room brawl. Shirts were ripped. Punches thrown. One MP brandished his red construction-worker's hard hat like a weapon.
And within a few minutes, the white shirts had won - bundling Mr Malema and his team out of parliament.
On the steps outside, Mr Malema said he'd proved South Africa was turning into a police state - that democracy was dying.
Back at the podium, President Zuma offered up one of his trademark chuckles and read out the rest of his speech as though nothing had happened.
Much later that night, I sat down for a few drinks with some local newspaper editors and columnists all trying to make sense of what we'd just seen. The mood was sombre.
Yes, the media had won a skirmish over the jamming of phones.
And sure it was a cheap, predictable stunt by the EFF - who'd suffered a few bruises in exchange for exactly the sort of publicity they so obviously wanted.
But it was more than that. Maybe not a turning-point, but a sign of things to come here in South Africa.
President Zuma could have answered the question. Instead he sat down, smiled, and let the men in white shirts handle it.
A South African colleague drained her glass and shook her head. It feels, she said, like something died here tonight.