Nigeria election: Postponement gets mixed reaction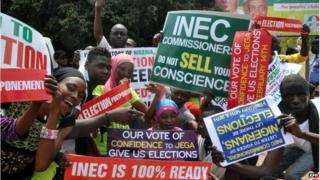 "Nigerians Shocked!" proclaimed one headline reporting that presidential elections due to take place next Saturday had been delayed for six weeks.
It was certainly a topic for discussion as people headed to church on Sunday in Lagos, the country's commercial capital and a city where the opposition All Progressives Congress (APC) and its presidential candidate Muhammadu Buhari has much support.
The electoral commission said they were postponing elections by six weeks because troops needed to protect polling stations were occupied fighting Boko Haram militants.
But reaction seems to have split along party lines, and many here saw the delay as a ploy to give the ruling People's Democratic Party (PDP) an opportunity to gain ground in the campaign.
The news did not dampen electioneering, however, with APC youths chanting "change, change, change" as they headed for an afternoon rally in Ikoyi.
Sweeping the road symbolically with brushes, they were vocal about their suspicions.
"We're not happy because we feel there is going to be rigging," one of them said.
An APC ward organiser, Fidelis Olulana Ogunkemi, agreed, calling the delay was "a gimmick by the PDP".
But like most in the crowd, he also said the APC would win despite the postponement.
"We are very, very prepared for it - even if they change it to any time our minds are made up we are going to vote Buhari," he said.
Another APC member, Sandra Elewale, concurred that the PDP should be worried about their electoral chances.
"They know if they go to the poll the APC will surely win the election, it is so glaring even a blind person can see that, even a deaf person can hear that."
She was dismissive about the reason given for delaying the poll.
"This insecurity we've been having for the last five years. Are you telling me it is possible to find a solution to in six weeks, something that you have been unable to do for five years? Is it possible? It's not," she said.
She said the new system using permanent voters cards, 66% of which have been distributed to voters, would ensure a fair election.
"We know their tricks. They cannot rig the way they used to do because there is a card reader."
But not everyone was critical. A newspaper vendor not far from the rally was unfazed by the delay.
"There's no problem at all, they postponed it, the election stands [and will go ahead]," he said.
He was more upset that the electoral commission had registered Gen Buhari at all following a row over his school leavers' certificate, which the PDP alleges is fake.
Reaction has been mixed elsewhere too, with many in southern PDP strongholds supporting the electoral commission's decision.
The delay was a good because it would mean that "no eligible voter is disenfranchised" said Omang Ajom Eba in the southern city of Calabar.
"Especially, our fellow Nigerians from the north-eastern part will not be left out," he said, adding that it would give time "for the election commission to prepare for a transparent election".
Anajemba Ndubuis in nearby Port Harcourt said it made sense to give Nigerians time to pick up their permanent voters' cards.
"There have been hiccups all through the distribution process… let us pick up our cards and use them for the purpose they were made," he said.
Idris Aregbe, a PDP legislator in Lagos state, agreed that the delay would allow more people to pick up their cards - something only 38% of Lagos state's 5.9 million registered voters have so far done so.
"We are fully committed to Lagos and the will of the people," he said.
At least there seems to be some consensus in Lagos that there should no further delays.
"We are tired, the economy is always getting harder," said APC member Hamis Jameel, to loud cheers from his comrades. "They're giving our people no work, no food - we need change."