Ebola crisis: Sierra Leone to reopen schools in March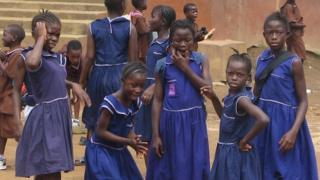 Schools in Sierra Leone are to reopen in March, eight months after they were closed because of the Ebola outbreak.
Measures are to be taken to ensure that schools are a safe environment, the education minister said.
Teachers are to be trained to use thermometers to take the temperatures and chlorinated water in buckets are to be made available in schools.
Sierra Leone has been worst affected by the Ebola outbreak which has killed more than 8,600 people in West Africa.
The World Health Organization's latest Ebola report says cases are rapidly decreasing in Sierra Leone.
There were 117 new cases last week, compared to 184 the previous week and 248 the week before that.
Western areas are still reporting the most new transmissions, it said.
The BBC's Umaru Fofana in the capital, Freetown, says the reopening of schools is another sign that the tide may be turning against the outbreak, the worst on record.
Education Minister Minkailu Bah said that school fees would be subsidised for secondary school students to help parents.
The ministry would also provide teaching and learning materials as well as ensuring schools were safe and disinfected.
Improving hygiene is a good way to reduce the chances of infection, as the virus is spread through contact with the bodily fluids. One of the first signs of having the virus is a high temperature.
On Monday, schools reopened after a five-month closure in Guinea, where the outbreak began more than a year ago.
In Liberia, the other country hit by the virus, schools are expected to open next month.
---
Ebola virus disease (EVD)
Symptoms include high fever, bleeding and central nervous system damage
Spread by body fluids, such as blood and saliva
Fatality rate can reach 90% - but current outbreak has mortality rate of about 70%
Incubation period is two to 21 days
No proven vaccine or cure
Supportive care such as rehydrating patients who have diarrhoea and vomiting can help recovery
Fruit bats, a delicacy for some West Africans, are considered to be virus's natural host
Ebola basics: What you need to know
---