Boko Haram unrest: Cameroon 'frees German hostage'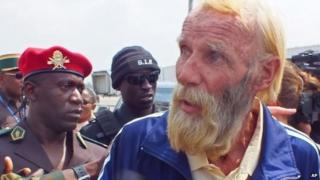 Cameroon says its military has freed a German hostage kidnapped in Nigeria by the Islamist militant group Boko Haram.
Robert Nitsch Eberhard, a teacher, was abducted in July 2014 in Nigeria's Adamawa State by the group, Cameroon's government said.
He was freed in a "special operation of the Cameroon armed forces and security services of friendly countries".
Boko Haram has seized control of towns and villages in north-east Nigeria and launched raids into Cameroon.
It is not clear which countries contributed to the operation to free Mr Robert.
'Happy to be alive'
The former hostage arrived in Yaounde in the company of Ferdinand Ngoh Ngoh, a senior official in the presidency, the BBC's Randy Joe Sa'ah reports from Cameroon's capital.
They were received at the airport by several ministers and the German ambassador.
Officials would not say how he was released, except to mention their gratitude to the military, our reporter says.
---
Boko Haram at a glance
Founded in 2002, initially focused on opposing Western education - Boko Haram means "Western education is forbidden" in the Hausa language
Launched military operations in 2009 to create Islamic state
Thousands killed, mostly in north-eastern Nigeria - also attacked police and UN headquarters in capital, Abuja
Abducted hundreds, including at least 200 schoolgirls
Controls several north-eastern towns
Launched attacks on Cameroon
Why Nigeria has not defeated Boko Haram
---
The freed man said he was pleased to be alive and safe and had spent long hours in the dark, unable to move because of death threats.
"I am happy to see all these people who rescued me and made sure I survived," Reuters news agency quoted him as saying.
Germany's Foreign Ministry spokesman Martin Schaefer told the AP news agency that a crisis team had been working on the case for months and thanked the Cameroon government for its "very good and trusting" co-operation.
Boko Haram has recently launched several attacks on Cameroon.
Suspected Boko Haram militants were believed to have kidnapped dozens of people in a cross-border raid near Mokolo city in Cameroon's Far North region on Sunday.
Some were later freed as Cameroon's forces pursued the attackers who were fleeing back to Nigeria.
Previous kidnappings in Cameroon blamed on Boko Haram have been more targeted - with high-profile people or foreigners reportedly taken for ransom.