Ebola crisis: Guinean priests beaten up over health fears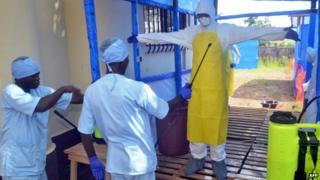 Three priests from a Baptist church in Guinea have been beaten up and held hostage because local people mistook them for Ebola awareness campaigners.
The priests had gone to the village of Kabac in Forecariah intending to spray insecticide on wells and pit latrines, a BBC reporter says.
But they were set upon by villagers who suspected they may have been bringing the Ebola virus into the area, he adds.
More than 8,600 people have died in West Africa in the Ebola outbreak.
Earlier this month, residents in Forecariah attacked and killed two police officers they suspected of bringing Ebola to the area.
The priests were badly beaten and their vehicle was set on fire, reports the BBC's Alhassan Sillah from Guinea.
Arrests
After this, the angry villagers went to the town council building, which they vandalised, he says.
It too was set on fire, forcing local officials to flee, our reporter adds.
Local reports said one council worker was killed by the crowd but this could not be independently verified.
There was further chaos when police arrested some of the residents and the crowd tried to prevent the detainees from being taken away, according to our reporter.
---
Ebola virus disease (EVD)
Symptoms include high fever, bleeding and central nervous system damage
Spread by body fluids, such as blood and saliva
Fatality rate can reach 90% - but current outbreak has mortality rate of about 70%
Incubation period is two to 21 days
No proven vaccine or cure
Supportive care such as rehydrating patients who have diarrhoea and vomiting can help recovery
Fruit bats, a delicacy for some West Africans, are considered to be virus's natural host
Ebola basics: What you need to know
---
The incident came a day after Guinea reopened its schools after a five-month break because of the Ebola outbreak.
Officials said they were able to do so because the public health situation had improved.
Several days earlier, the UN said the number of confirmed Ebola cases in Guinea had fallen to its lowest weekly total since August.
According to the latest figures from the World Health Organization, there have been 2,871 Ebola cases in Guinea and 1,876 deaths.
The worst hit countries in the outbreak have been Sierra Leone, with 10,340 cases and 3,145 deaths, and Liberia (8,478 cases and 3,605 deaths).