Wilfried Bony: Ivory Coast's history-making striker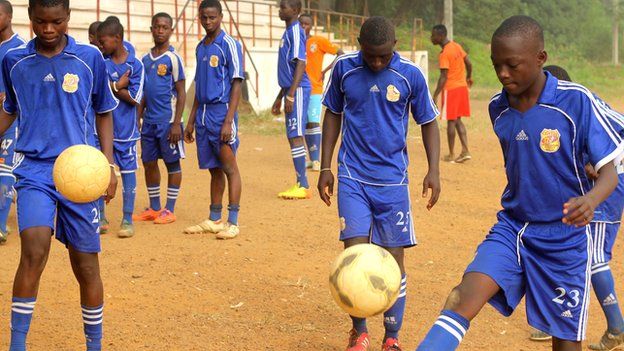 Wilfried Bony has become one of the most expensive African players in history after moving to Manchester City from Swansea for an estimated £25m ($38m). The BBC's Tamasin Ford has been to his hometown of Bingerville in south-eastern Ivory Coast to find out more about the Premier League's latest rising star.
"He slept right here," says Carmel N'Guessan, pointing to a faded mattress at the bottom of a hard, wooden, three-storey bunk bed.
I take in the surroundings: A flurry of football kits and clothes are strewn across the room, one of five dorms at the Cyrille Domoraud football academy where Bony arrived at the age of 12.
It is hot and musty, exactly how you would imagine a teenage dormitory to smell.
"Wilfried Bony is one of the top footballers," says N'Guessan, the academy's secretary general. "It's always an honour [for the players] to get to sleep in his bed."
The Domoraud academy is nowhere near as grand as Ivory Coast's famous ASEC Mimosa academy where more than half of last year's Ivory Coast World Cup team passed through, including the Toure brothers Yaya and Kolo, former Chelsea player Salomon Kalou and Roma forward Gervinho.
There are no swimming pools, specialised gymnasiums or tennis courts here.
Simply the dorm rooms, a small concrete school block, an administration office and a canteen.
Despite the lack of five-star facilities, the academy is still pumping out the football stars.
It was not only the starting platform for Bony, but also for FC Porto's Jean Michael Seri, Xavier Kouassi, who plays in Switzerland, and defender Wilfried Kanon, now with a team in the Dutch Eredivisie.
Cyrille Domoraud, the man behind the academy, is another Ivorian footballing great.
"I started the centre because I had the chance to go to Europe when I was very young. There are so many young Ivorians who would wish to be in my place," he says.
With a career spanning France, Italy, Spain and Turkey, Domoraud captained the national side, taking The Elephants to their first World Cup in 2006.
It was then that he turned his eyes to spotting the country's future stars.
"I gave Wilfried Bony the chance and several other players because I told myself I am giving football back what it gave to me," he adds.
There is one word that is used again and again here when people speak about Bony - serious.
And "serious" is exactly the word I would use to describe the 26-year-old after interviewing him a few times myself.
"He is a wise boy who knows what he wants," says Domoraud.
"He's got his head on his shoulders."
The first time he saw Bony play was when he was visiting Abidjan, the economic capital of the Ivory Coast, on holiday from France.
Bony played as a defender back then and according to Domoraud he defended with "gusto".
"He was cautious with the ball, easy with the ball; a technician. So I kept my eye on him."
It was not until Domoraud joined the national side's coaching squad with former England boss Sven-Goran Eriksson that Bony got the chance to play for his country.
Domoraud did not tell anyone the young player was at his academy, instead wanting Bony to prove his talents for himself.
Does he ever joke around like Kalou or Gervinho? I ask him.
"He will joke with his friends, but he is a young boy who is focused," he replies.
We walk through the botanical gardens of Bingerville, the West African country's former capital - the same route Bony would have walked every day to get to the municipal training grounds.
The giant, tropical trees cast a welcome shade from the skies thick with dust from the harmattan winds that blow from the Sahara Desert.
The academy players, dressed in their blue strips, are waiting for the local school teams to finish training so they can get on the pitch.
One of the coaches points out a few of the potential stars.
Sixteen-year-old Manchester City fan Doumbia Aidianu, who has just started at the academy, is one of them.
He says it is "incredible" training at the same place as Bony did.
"I think he's a great player, excellent even.
"He's a big celebrity and that makes me happy," Aidianu laughs.
"I hope he becomes the best player in Africa."
On the hunt for the footballer who gets to sleep in Bony's old bed, I ask the waiting players.
The smallest of the bunch steps forward and erupts into a fit of giggles as he declares his name is "Suarez".
He tells me it makes him proud lying in Bony's bed every night.
And that is the overriding feeling here at the academy - pride.
"He's made our country proud," says Domoraud.
"When we speak about Ivory Coast, we think of [Chelsea striker] Didier Drogba, Yaya Toure, who was one of the biggest transfers in England [when he moved to Manchester City in 2010 for £24m].
"And one day, thanks to God, it will be Wilfried Bony. He's our pride and he deserves it."