Boko Haram crisis: Cameroon repels army base raid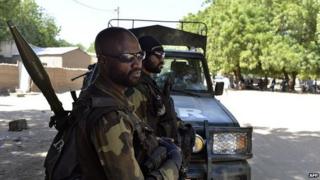 Cameroon says it has killed 143 Boko Haram militants who attacked one of its army bases near the Nigerian border.
One soldier was killed during the assault, which took place on Monday and led to a gun battle lasting five hours.
It was the first major attack on Cameroon since Nigeria-based Boko Haram threatened the country's leader in a video posted online earlier this month.
The militant Islamist group has seized control of towns and villages in north-east Nigeria in a six-year insurgency.
The Cameroonian Information Minister Issa Tchiroma Bakary said: "It is by far the heaviest toll sustained by the criminal sect Boko Haram since it began launching its barbaric attacks against our land, people and goods."
It is impossible to verify the stated casualty figures and some analysts are sceptical about such an apparently one-sided battle.
The attack on the Cameroonian military base at Kolofata came as Nigeria said the number of people who lost their lives in an assault by Boko Haram on the town of Baga last week was no more than 150.
'Stepping over bodies'
The defence ministry said this figure included "many of the terrorists" who had attacked the town in Borno state and faced resistance by troops.
Local officials earlier estimated the number of deaths at as many as 2,000.
Nigeria has often been accused of underestimating casualty figures to downplay the threat of Boko Haram.
However, doubt has also been cast on the higher estimates for deaths in Baga, with analysts saying accounts by fleeing witnesses or people who were not there cannot be regarded as reliable.
The Nigerian defence ministry has dismissed the higher estimates as "speculation and conjecture" and "exaggerated".
It said the army was taking "necessary actions" to restore law and order in Baga, but gave few details about the operation to recapture the town from the Islamist insurgents.
The French medical charity, MSF, says about 5,000 people have fled to the city of Maiduguri from Baga.
Ten days after the town was attacked, many more civilians are still making their way to safety, it said.
MSF says there are now about 500,000 displaced people living in Maiduguri.
---
Boko Haram at a glance
Founded in 2002
Initially focused on opposing Western education - Boko Haram means "Western education is forbidden" in the Hausa language
Launched military operations in 2009 to create Islamic state
Thousands killed, mostly in north-eastern Nigeria - also attacked police and UN headquarters in capital, Abuja
Why Nigeria has not defeated Boko Haram
---
A Kano-based journalist with AFP news agency, Aminu Abubakar, told the BBC's Newsday programme that he had spoken to a witness who had returned to Baga on Sunday night and seen bodies piled up in a market.
He said Boko Haram had built barricades to defend the town and there was no sign of any counterattack by government forces.
The journalist said another witness had told him that he had had to step over bodies for about 5km (three miles) as he fled Baga at night, three days after the Boko Haram assault.
A French-led initiative has called for Nigeria, Niger, Cameroon and Chad to contribute 700 troops each to a multinational force against Boko Haram, but no country has taken steps to implement the plan.