Tunisia's Essebsi: The 88-year-old comeback kid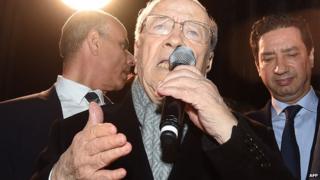 Some Tunisians fear that President Beji Caid Essebsi and his Nidaa Tounes party represent less of a break with the old system, and more of a disguised return of the old guard, with an injection of Botox.
The 88-year-old has been prominent in politics for more than half a century, and has served under two autocratic rulers.
For a man who is way beyond retirement age, Mr Essebsi, who won a run-off vote on 21 December to become Tunisia's first freely elected president, boasts a surprising amount of energy and political ambition.
He is affable, jovial and confident.
During the election campaign, he highlighted his political experience.
Many of his supporters voted for him because they consider him a safe pair of hands in the presidential palace in Carthage, four years after the revolution which overthrew long-serving ruler Zine al-Abidine Ben Ali.
Mr Essebsi was among the founding fathers of the Tunisian republic formed after independence from France in 1956, and served as interior minister in then-President Habib Bourguiba's government.
The late Mr Bourguiba is credited with wide-ranging social and economic reforms, but also stands accused of having established a repressive regime which cracked down on the opposition and guaranteed domination by a single party, the Rally for Constitutional Democracy (RCD), until the 2011 revolution.
'Torture'
For former judge Mokhtar Yahyaoui, it is hard to ignore that Mr Essebsi oversaw the establishment of a police state during his term as interior minister.
Later, he made a comeback under the Ben Ali regime as the speaker of what was widely regarded as a rubber-stamping parliament.
"He carries some responsibility for the repression and torture under the Bourguiba dictatorship," says Mr Yahyaoui, who knows Mr Essebsi personally.
He adds that Mr Essebsi failed to criticize the dictatorial practices of the two ex-rulers in public but acknowledges that he raised his concerns in private.
Tunisia presidential elections
55.6%
voted for Beji Caid Essebsi
44.3%
voted for Moncef Marzouki
Votes cast: 3,110,048

Turnout: 60%
AP
---
Beji Caid Essebsi
88-year-old lawyer and politician
Studied law in Paris
Interior minister under Habib Bourguiba, Tunisia's first president after independence
Speaker of parliament under ousted President Zine al-Abidine Ben Ali
Interim prime minister in 2011 after the uprising
Founder of secular-leaning Nidaa Tounes party in 2014
Supported by both trade unions and some business groups
---
Robert Parks, the director of the American Center for Maghreb Studies in the Algerian city of Oran, says that Mr Essebsi was a long-time advocate of political reforms.
"Under Bourguiba, he was considered an economic and political liberal," he argues.
"In 1971 Essebsi attempted to push Tunisia onto a pluralist pathway. That effort failed, and Essebsi was more or less in political exile until 1980."
'Strangling justice'
The new president is regarded as a politically savvy and pragmatic tactician who managed to unite a largely fragmented secular opposition, under the umbrella of the newly formed Nidaa Tounes after the 2011 revolution.
The party secured the largest number of seats in parliament and is made up not only of prominent trade unionists and businessmen, but also includes members of the RCD, which was dissolved after Mr Ben Ali was ousted.
The newly elected leader of the Tunisian parliament, Mohamed Ennaceur, was the Minister of Communication Technologies from January 2010 to January 2011, when Mr Ben Ali was overthrown in a popular revolt.
This has led Selim Ben Abdessalem, a prominent member of Nidaa Tounes, to quit the party.
"Nidaa Tounes is being dominated by members of the RCD - Ben Ali's party. I couldn't accept this. I didn't want to give legitimacy to these people and this party," he says.
"I am concerned that they will strangle justice, and especially the transitional justice process. Why should they have an interest in seeing the affairs of 23 years of Ben Ali coming to light?" Mr Ben Abdessalem asks.
'Carrying dreams'
During the election campaign, Mr Essebsi called for a change to a law which requires an investigation into human rights abuses committed since the 1960s.
This was seen by his critics as an attempt to avoid a probe into his role as interior minister in the Bourguiba government.
In his first address to the nation after securing victory, Mr Essebsi tried to reassure his critics.
He vowed to respect the freedoms achieved after the 2011 revolution and promised to protect freedom of speech.
"We will not take any reporters to the courts, this I promise. There is no going back on press freedoms," he told national TV.
He went on to stress that he considered himself the president of all Tunisians, not just those who voted for him and Nidaa Tounes.
"Our values are democratic," says Mahmoud Ben Romdhane, a senior member of the party.
"We want to respond to the dreams of the Tunisian revolution. You have to judge our party based on our values and objectives. We reject the corruption that was at the core of the RCD, and we want to build a state based on the rule of law."
Most analysts agree that it is difficult to predict the direction in which Mr Essebsi will take Tunisia.
In 2013, he called for the dissolution of the elected body meant to draw up a new constitution.
In the end, Mr Essebsi changed his mind and was instrumental in entering into talks with the then-governing Islamist Ennahda party, breaking the political deadlock which threatened Tunisia's stability.
"Mr Essebsi and his party have demonstrated that a political party can change its opinion and attitudes," says Meherzia Labidi, one of Ennahda's most senior members of parliament.
"I hope that both he and his party understand that whoever is governing Tunisia shall respect the constitution. It's the achievement of all Tunisian people," she adds.
Mr Yahyaoui, the former judge, describes the president as a "very clear-thinking individual".
"We have to see whether he is going to adapt the party to the new Tunisia, or whether the new Tunisia will have to adapt to the party," he adds.