Congo M23 rebels 'on the run in Uganda ahead of handover'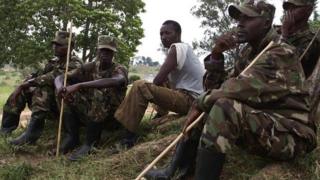 More than 1,500 Congolese ex-rebels have gone on the run in Uganda ahead of their handover to the Democratic Republic of Congo, the group's leader, Bertrand Bisimwa, has told the BBC.
The M23 president said they had left a camp where they were being held because they feared returning home.
They had fled to Uganda a year ago after being defeated by the Congolese army and UN forces.
However, Uganda's army spokesman has denied that most of them are missing.
'Neighbouring hills'
The BBC's Catherine Byaruhanga in Uganda says a Congolese government delegation was in the capital, Kampala, earlier this month to negotiate the former fighters' return to DR Congo, where the authorities have said they will be demobilised and reintegrated into society.
They are not believed to be armed, she says.
Mr Bisimwa said the estimated 1,600 ex-fighters who had been staying at the military training school in western Uganda since November 2013 were due to be handed back to the authorities in DR Congo on Tuesday.
But when Ugandan army trucks arrived to pick them up in the morning they ran away into the neighbouring hills, leaving only a handful who were sick, he said.
Congolese government spokesman Lambert Mende told the BBC that he did not know how many of the former fighters had escaped, but a number of them were on their way to Kampala to be transferred.
Some 800,000 people fled their homes in eastern DR Congo during the 20-month M23 insurgency.
At the time the UN accused Rwanda and Uganda of backing the rebels - charges both countries denied.
An accord to end the rebellion stipulated that former fighters, who had gathered at camps in Rwanda and Uganda, would be granted an amnesty on their return to DR Congo.
It also said the leaders of the group should be returned to face charges of war crimes and crimes against humanity.