Nigeria: Dozens killed in double bombing in Jos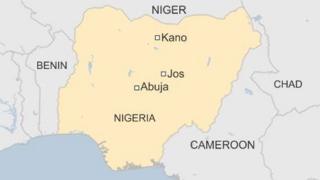 A twin bomb attack has killed at least 30 people in a busy area of the Nigerian city of Jos.
The two bombs exploded in quick succession in a marketplace near the scene of a major bombing in May.
Jos has a mixed population of Muslims and Christians, and in recent years Boko Haram militants have attacked churches and mosques there.
The group has killed more than 2,000 people this year. No group has said it carried out the latest bombings.
The blasts targeted Jos's commercial district, near the Terminus bus station.
The first explosion took place at an outdoor food stand. The second blast hit the marketplace.
Separately, police in Nigeria's second-largest city, Kano, say they have arrested a 13-year-old girl wearing a suicide belt.
On Wednesday, at least four people were reported killed and seven hurt in attacks by two female suicide bombers in Kano.
Last month, more than 100 people died in a gun and bomb attack during prayers at one of the biggest mosques in the city.
Boko Haram militants are suspected of being behind the attacks.
The group has taken over several towns and villages in the north-east of the country, declaring the area under its control to be a caliphate.
Thousands of people have died and more than a million have been forced from their homes in the group's five-year insurgency.