Nigeria's Maiduguri city hit by deadly blasts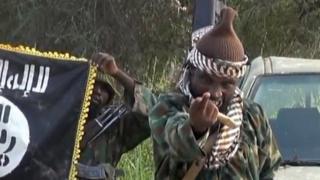 Suicide attacks by two female bombers at a crowded market in northern Nigeria's Maiduguri city have killed 78 people, medical officials say.
One teenage girl blew herself up first and as people gathered to help victims, the second girl detonated herself, witnesses say.
No group has said it carried out the attacks, but the militant Islamist group Boko Haram is suspected.
Its insurgency is to establish what it calls an Islamic state.
Campaign group Amnesty International says that the group killed at least 1,500 people in early 2014.
It was based in Maiduguri, the capital of Borno state, after its formation in 2002, but it has since been driven out of the city by the military and vigilante groups.
'Bomber screamed'
It now controls a large number of towns and villages in Borno, amid fears that it is preparing to launch an assault to capture Maiduguri.
Boko Haram has not commented on the explosions.
It has been blamed for at least five female suicide bombings in Nigeria since June.
The girls, dressed in full hijab, entered the busy market and detonated their explosives, said Abba Aji Kalli, the coordinator of a government-backed vigilante group in Borno, AP news agency reports.
The first bomber killed about three women, he said.
When people gathered at the scene, the second bomber screamed and blew herself up, killing about 30, Mr Kalli added.
Borno has been the epicentre of Boko Haram's campaign.
On Monday, suspected insurgents took over Damasak town, less than 200km (125 miles) from Maiduguri, setting fire to houses and killing an unspecified number of people.
The assailants entered the town disguised as traders, carrying boxes which were packed with AK-47 rifles.
The insurgency has intensified despite the government declaring a state of emergency last year in Borno and two neighbouring states.
---
Who are Boko Haram?
Founded in 2002
Initially focused on opposing Western education - Boko Haram means "Western education is forbidden" in the Hausa language
Launched military operations in 2009 to create Islamic state
Thousands killed, mostly in north-eastern Nigeria - also attacked police and UN headquarters in capital, Abuja
Some three million people affected
Declared terrorist group by US in 2013
Boko Haram crisis: Nigeria's female bombers strike
Profile: Boko Haram leader Abubakar Shekau
---
Are you in the area? You can share your experiences by emailing haveyoursay@bbc.co.uk. If you are willing to be contacted by a BBC journalist, please leave a contact number.
Send your pictures and videos to yourpics@bbc.co.uk or text them to 61124 (UK) or +44 7624 800 100 (International). If you have a large file you can upload here.