Boko Haram crisis: 'Militant traders' raid Nigeria town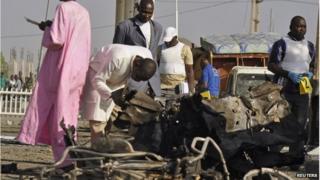 Hundreds of residents and soldiers are fleeing a northern Nigerian town attacked by militant Islamists disguised as traders, officials say.
Shootings and explosions had rocked the trading town of Damasak, near Niger's border, a senator told the BBC.
Boko Haram fighters seized a nearby fishing village on Thursday, reportedly killing 48 people.
On Sunday, Nigeria's top Islamic leader accused soldiers of "terrorising", rather than defending, civilians.
"Soldiers take to their heels and abandon their bases, arms, ammunition and other military hardware on the approach of the insurgents," said the Sultan of Sokoto, Muhammad Sa'ad Abubakar.
"Nigerian security forces only surface after the deadly attacks and terrorise an already terrorised people by installing road blocks and searching homes," he added in a statement issued on his behalf by Jama'atu Nasril Islam (JNI), the main body representing Muslim clerics in Nigeria.
'Inflicted horror'
The militants entered Damasak carrying containers which they claimed were full of goods for sale when were, in fact, stuffed with AK-47 rifles, local government official Mohammed Damasak said, AFP news agency reports.
The gunmen "inflicted horror" and "many traders escaped with bullet wounds while many are lying dead at the market", he is quoted as saying.
Senator Maina Ma'aji Lawan told the BBC Hausa service that Boko Haram appeared to be on the verge of capturing Damasak, forcing people to flee to outlying villages and across the border into Niger.
---
Who are Boko Haram?
Founded in 2002
Initially focused on opposing Western education - Boko Haram means "Western education is forbidden" in the Hausa language
Launched military operations in 2009 to create Islamic state
Thousands killed, mostly in north-eastern Nigeria - also attacked police and UN headquarters in capital, Abuja
Some three million people affected
Declared terrorist group by US in 2013
Profile: Boko Haram leader Abubakar Shekau
---
Mr Lawan is the senator for the northern area of Borno - one of three states where President Goodluck Jonathan declared a state of emergency last year, vowing to crush the insurgency.
Boko Haram has stepped up attacks since then, declaring a caliphate (Islamic state) in areas it controls.
In Thursday's assault, traders were on their way to Chad to buy fish when militants blocked their path near the village of Doron Baga, some 180km (112 miles) north of Maiduguri.
A fish traders' group said some of the 48 victims had their throats slit whilst others were tied up and drowned in Lake Chad, in one of the most brutal attacks blamed on Boko Haram.
BBC Nigeria analyst Aliyu Tanko says the militants appear to be advancing northwards after taking control of much of southern Borno in recent months.
It seems the group wants to isolate the state capital, Maiduguri, to make it easier to launch an attack on it, he says.
The sultan of Sokoto's intervention shows a growing lack of confidence in the security forces, although the government says it is doing its best to defeat Boko Haram, he adds.
Last week, another influential Muslim leader, Muhammad Sanusi, the emir of Kano, said residents should "acquire what they need" to protect themselves.
Boko Haram has killed Christians and Muslims opposed to its version of Islam since launching its insurgency in 2009.