South Africa to spend $2.2bn on HIV/Aids drugs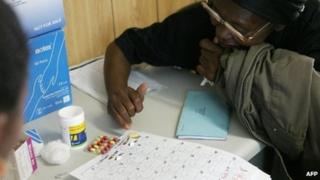 South Africa will spend $2.2bn (£1.4bn) over two years on life-saving HIV/Aids drugs for public hospitals, a government minister has said.
Trade and Industry Minister Rob Davies said the government aimed to buy three-quarters of the drugs locally.
The tender represents a big rise from 2012 when the government awarded a $667m two-year contract for HIV/Aids drug supplies.
South Africa runs the world's largest HIV/Aids treatment programme.
The country has the biggest HIV epidemic in the world, with more than six million people living with HIV, according to Aids charity Avert.
Medical charities warned last year that many South African clinics were running out of life-saving drugs despite government efforts to make treatment more widely available.
Programme overhauled
Speaking during a visit to a factory run by local drugmaker Aspen in Port Elizabeth, Mr Davies said: "We are on the cusp of a very important tender worth 24bn rand ($2.2bn) by the Department of Health that is for the procurement of anti-retrovirals for 2015."
Aspen won about a third of the 2012 contract, which was shared with other firms. Its chief executive, Stephen Saad, has said his company hopes to win at least half of the forthcoming two-year deal.
Not everyone who is HIV-positive needs the drugs. The most common way of checking is to measure the level of CD4 cells, which help the body fight disease.
For some time South Africa authorised treatment only for those whose CD4 count dropped below 200, by which time they were already sick.
But the country has overhauled its HIV/Aids treatment programme in recent years, raising this figure to 350, with the aim that drugs are provided in time to keep people healthy and active.