Nigeria college in Kontagora 'hit by suicide bombing'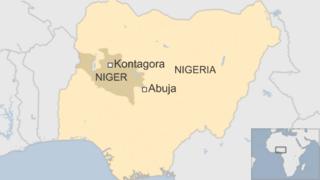 A female suicide bomber has blown herself up at a college in northern Nigeria, killing at least three people, witnesses say.
The explosion went off outside a packed lecture hall at the college in Kontagora town, the witnesses added.
Casualty figures are unclear, but lecturer Andrew Randa told the BBC he had seen four bodies.
This is the second suicide attack on a school this week - on Monday, 46 boys were killed in Yobe State.
Militant Islamist group Boko Haram is waging an insurgency in Nigeria.
It has not commented on the blast in Kontagora, some 240km (150 miles) from the capital, Abuja.
The group has declared a caliphate, or Islamic state, in areas it controls in the north-east.
It has carried out a spate of bombings and assassinations in northern Nigeria since launching its campaign in 2009.
---
Who are Boko Haram?
Founded in 2002
Initially focused on opposing Western education - Boko Haram means "Western education is forbidden" in the Hausa language
Launched military operations in 2009 to create Islamic state
Thousands killed, mostly in north-eastern Nigeria - also attacked police and UN headquarters in capital, Abuja
Some three million people affected
Declared terrorist group by US in 2013
Nigeria's female bombers strike
What now after ceasefire fiasco?
---
Mr Randa said he heard a deafening blast and then there was pandemonium as people ran away from the scene.
Soldiers rushed to the college and sealed off the area, he said.
BBC Nigeria analyst Isa Sanusi says this is the first time Boko Haram has been blamed for an attack in Kontagora, a major town in Nigeria's Niger state.
If it is confirmed that the group carried out the attack, it would suggest that it has extended its reach to a new area, he says.
The bomb seemed to have exploded prematurely, as the bomber was still trying to gain entry into the lecture hall when it detonated, one witness told the BBC Hausa service.
Three of the four bodies he had seen were those of women, and some had been decapitated, Mr Randa added.
Other witnesses said the bomber died in the blast, and there were many casualties.
At least seven people were wounded and rushed to hospital, they said.
Boko Haram is opposed to Western education, and believes that Muslim boys and girls should only receive an Islamic education.