South Sudan crisis: Conflicts hits three states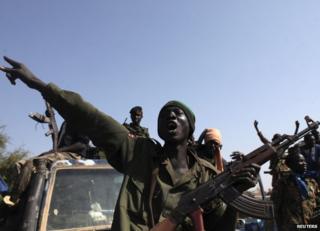 Government and rebel forces have clashed in three states in South Sudan, just days after their leaders agreed to unconditionally end fighting.
A rebel spokesman blamed the government for attacking their positions, including oil fields.
But the army accused the rebels of restarting the conflict, saying their attacks were repelled.
On Friday, regional body Igad gave the two sides a 15-day deadline to end conflict or risk sanctions.
The fighting has displaced some 1.5 million people and more than seven million are at risk of hunger and disease, the United Nations (UN) says.
The latest violence broke out in Upper Nile, Jonglei and Unity states, where rebels allege that oil fields had been targeted, says BBC Africa's Emmanuel Igunza in the Ethiopian capital, Addis Ababa.
South Sudan's President Salva Kiir and rebel leader Riek Machar held two days of talks in Addis Ababa last week in a mediation effort brokered by Igad (Inter-Governmental Authority on Development), which groups eight East African states.
The two leaders agreed to an "unconditional, complete and immediate end to all hostilities".
Igad warned that it will impose sanctions, including travel bans and an arms embargo, on both sides if fighting did not end.
Previous ceasefire deals signed by the two sides have collapsed.
The conflict broke out in December when Mr Kiir accused Mr Machar - his sacked deputy - of plotting a coup.
Mr Machar denied the allegation, but marshalled a rebel army to fight the government.
The fighting has severely disrupted South Sudan's oil production, and aid agencies have warned the the poor East African state could be hit by a famine next year.
South Sudan seceded from Sudan in 2011 after a long and bloody conflict, to become the world's newest state.
---