Vietnamese 'rhino horn traffickers' charged in South Africa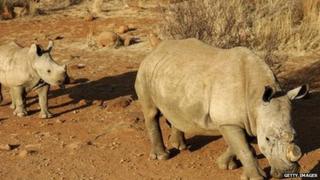 Two Vietnamese nationals in South Africa have been charged with the illegal possession of 41kg (90lbs) of rhino horn, police have told the BBC.
Officials say it is the largest amount of black market rhino horn to be seized in South Africa.
The men, believed to be linked to an international poaching ring, had been under surveillance before their arrest at a Johannesburg airport, police say.
Nearly 900 rhino have been killed in South Africa since January.
Rhino horn can sell for up to $65,000 (£47,500) per kg - which is nearly double the price of gold - with China and Vietnam being the largest markets.
Police say the illegal haul was found by a dog that specialises in sniffing out rhino horn at OR Tambo International Airport in Johannesburg on Sunday.
'National crisis'
Paul Ramaloko, spokesperson for South Africa's organised crime fighting unit, told the BBC it was equivalent of 20 rhino horns with an estimated value of $358,000.
"Rhino poaching is regarded as a national crisis - for this reason those found guilty of the crime are dealt with harshly," he said.
It is believed that the horns were most likely to have been removed from animals in South Africa's Kruger National Park, but tests need to be done to determine their origin, officials say.
South Africa - home to the world's largest rhino population - has in recent years stepped up its anti-poaching efforts by investing millions of dollars in tracking equipment and has also deployed hundreds of troops along its borders to help fight gangs smuggling rhino horns, says the BBC's Pumza Fihlani.
But campaigners worry that not enough is being done to debunk the myths about the healing powers of rhino horn, which is one of the reasons for its popularity in Asia.
The men have been remanded in custody and are due to appear in court again in Kempton Park - a town east of Johannesburg - on 17 November.