Ebola intensifies the struggle to cope with Lassa fever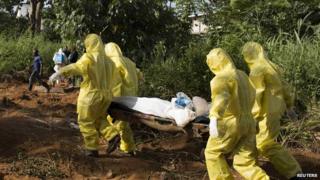 The peak season for Lassa fever in West Africa is about to begin. The viral haemorrhagic fever has been largely forgotten in the Ebola crisis, and health workers are warning that they may not have the resources to deal with the disease if cases increase.
At first sight the symptoms of Lassa are identical to Ebola. There can be bleeding, vomiting and fever. But whereas Ebola is a new outbreak, Lassa is a constant presence. Every year it infects from 300,000 to 500,000 people, killing up to 20,000.
All of the countries worst hit by Ebola are home to Lassa fever. On Friday, Dr Geraldine O'Hara from Medecins Sans Frontieres (MSF) told the BBC that one of her colleagues had died of Lassa despite all efforts to save her.
Nigeria may also be seeing its first outbreak of the season. Only weeks after successfully containing Ebola, Nigerian media have reported an outbreak of Lassa in Oyo State.
There is one main difference between an outbreak of Ebola and Lassa. A Lassa outbreak is caused by rats. The rodents carry the disease into homes and food stores, especially in the dry season running from November to April.
"We have had literally dozens of cases of Lassa fever already in the eastern part of Sierra Leone," said Prof Robert Garry of Tulane University which has researched Lassa in West Africa for a decade.
Once infected, Lassa can spread from person-to-person. Not everyone who catches it becomes seriously ill, but fatality rates have been known to be as high as 70%. It is less easily transmitted than Ebola, but nonetheless patients must still be treated in complete isolation.
Abandoned hospital
The containment of Lassa fever was a major focus in West Africa until Ebola arrived. It was in a Lassa laboratory that Sierra Leone's first Ebola case was identified.
Dr Sheik Umar Khan, head of the Lassa fever programme at Kenema Government Hospital, had spent a decade building a specialised treatment centre. He died of Ebola in September.
"We lost our head physician and six of our nurses and a lab technician," said Dr John Schieffelin from Tulane University, who worked at the hospital.
Kenema's Lassa ward had been overwhelmed with Ebola patients. "It is essentially abandoned except for the Ebola treatment area," said Dr Schieffelin.
'Hidden disaster'
The remaining health workers in West Africa are already overstretched with Ebola. As cases of a second haemorrhagic fever begin to rise, some are worried that Lassa may go undiagnosed and untreated.
"Attention has completely shifted now from Lassa to Ebola. There are cases of Lassa fever being actually considered to be Ebola cases in many places," said Prof Christian Happi of Redeemer's University in Nigeria. "In that regard it is a very complicated situation for us, especially in Liberia and in Sierra Leone."
"This is a hidden disaster," said Dr Matthias Borchert in Liberia from the Charite University of Medicine in Berlin and the London School of Hygiene and Tropical Medicine. "The health system in Liberia has virtually come to a halt for anything but Ebola. Whether it is Lassa, malaria or complicated deliveries - it is difficult to find any treatment."
Lassa fever can be treated with a drug. Ribavirin is used to help patients recover but it is useless for Ebola and is only given once Lassa has been confirmed. Rapid tests are not widely available and without them only a laboratory can tell the difference between an Ebola patient and a Lassa patient. Delays in treatment can be fatal.
"Our Lassa project is severely compromised," said Dr Borchert. "Our anthropologist is affected by German foreign office warnings against all travel to Guinea and Sierra Leone that is not Ebola related.
"Our epidemiologist cannot carry out [surveys of blood serums] in the community and our rodent biologist has problems trapping rats because communities suspect that this is somehow Ebola-related and refuse access to houses."
Early warning
Work on Lassa fever can only resume once the Ebola crisis has been dealt with. "We need to get the Ebola outbreak shutdown", says Prof Garry.
He hopes that as international efforts improve there will be less pressure on Lassa medical teams. As most of the Ebola patients are moved to new treatment centres it will allow the old wards at hospitals such as Kenema to be decontaminated and rebuilt.
Early warning systems for haemorrhagic fevers can also be re-established and improved after the crisis. "I am sure that with the Ebola epidemic, countries are going to be more prepared, countries are going to be more alert," said Prof Happi.
But even when the Ebola outbreak is over, the disease will have an unsettling consequence for Lassa doctors.
"Going forward, forevermore, we will have to be on the alert for both diseases," said Prof Garry.
Before the crisis, when a patient walked into a clinic there was a clear set of symptoms to point to Lassa Fever.
Now it could be Ebola.