Guy Scott's rise to Zambia's presidency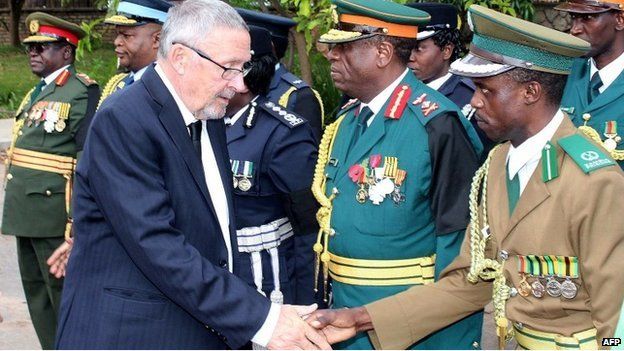 Zambia will have the unusual image of a white president following the death of the incumbent Michael Sata.
Guy Scott, a 70-year-old ex-farmer and economist, has become Zambia's acting president, ending speculation that his heritage would stop him being acting leader in the southern African state, where white people make up less than 40,000 of Zambia's 13 million-strong population.
University of Zambia political scientist Lee Habasonda says Mr Scott's critics may mount a legal challenge against his appointment by invoking the constitution's "parentage clause" which requires the president to be a "third generation" Zambian.
However, he believes Mr Scott qualifies to be caretaker president, as the constitution also states that in the event of the president's death, his deputy - a post Mr Scott has held since 2011 - will serve as acting leader until elections are held within 90 days.
The "parentage clause" was inserted after the advent of multi-party democracy in Zambia in 1990 by then-President Frederick Chiluba to prevent his bitter rival, Kenneth Kaunda - the first post-independence leader whose father was born in what is now Malawi, from running for office again.
Arguing that it should be scrapped, Mr Habasonda says: "It is not relevant in the 21st Century. It is undemocratic and does not fit in with a globalised world."
The elected MP for Zambia's capital Lusaka, Mr Scott's appointment is undoubtedly historic: He has become Africa's first white president in a black-majority state since racially inspired minority rule ended on the continent, with the collapse of the apartheid regime in South Africa in 1994.
But Mr Habasonda doubts that Mr Scott will run for the presidency.
"He understands his limits. He's content with what he's got, and age counts against him," Mr Habasonda told the BBC.
Guy Scott: Caretaker president
Often disparagingly referred to as the "ceremonial vice-president"
He was born in 1944 in what was then Northern Rhodesia after father emigrated from Glasgow to work as a doctor on the railways
A Cambridge-trained economist, he entered politics in 1990 joining the MMD which won the first multiparty elections the next year
As agricultural minister he oversaw the recovery from a devastating drought in 1992/93
He joined Michael Sata's Patriotic Front (PF) in 2001
Appointed vice-president in September 2011 after the PF's election victory
As his parents were not born in Zambia a constitutional clause on parentage may nullify any attempt to run for president
After Mr Sata appointed him as vice-president in 2011, he attended high-level meetings with other African leaders.
On Mr Sata, he commented: "Michael's very clever, he knows people tend to regard him as a racist because he talks rough.
"He's usually tried it out on me already. He says things like, 'What would you be if you weren't white?' I said, 'The president?' That shut him up."
Mr Habasonda believes that Mr Sata chose him as his deputy in order to "link" Zambia to foreign powers, and because he was a major funder of the Patriotic Front (PF) party, helping it to gain power for the first time in 2011 after Mr Sata spearheaded the modernisation of the party.
"Mr Scott was a farmer, and sufficiently endowed with financial resources," Mr Habasonda said.
"Mr Sata gave him the deputy presidency out of appreciation. It is not a powerful post," he added.
Michael Sata obituary: Penny Dale, BBC's former Zambia reporter
Gravelly-voiced as a result of years of chain-smoking, Michael Sata rose to political prominence in the 1980s. He quickly earned a reputation as the hardest-working governor while in charge of Lusaka and as a populist man of action. But he was also known for his authoritarian tendencies, an abrasive manner and a sharp tongue - and his critics say his nickname of "King Cobra" was well-deserved.
A devout Catholic, Mr Sata had worked as a police officer, railway man and trade unionist during colonial rule. After independence, he also spent time in London, working as a railway porter, and, back in Zambia, with a taxidermist company.
On the fourth attempt, Mr Sata won presidential elections in 2011. At first he looked as if he would keep promises to tackle corruption and create jobs and prosperity. But his term in office was marred by a crackdown on political opposition and a decline in the economy.
Mr Sata also failed to appoint Mr Scott as acting president when he was absent from the country, showing his lack of political influence in the PF government.
Defence Minister Edgar Lungu was the last person to be appointed to the role when Mr Sata fell ill, raising speculation that he was the late leader's preferred successor.
"The defence minister is the leading contender. He is more likely to be accepted in the party. He is a lot more neutral and not aligned with regional [Zambian] politics," Mr Habasonda said.
Mr Scott was born in the Zambian town of Livingstone to a father of Scottish descent and a mother of English descent.
He studied in the UK, graduating in economics from the prestigious Cambridge University, and returned to Zambia at the advent of multi-party politics in 1990.
Mr Scott's political views do not fit in with the stereotypical image of white people in Africa.
Recalling Mr Mugabe's performance at a trade summit in neighbouring Malawi, Mr Scott said: "You have this bloke presented to you as the local nutter, yet he was tremendously compos mentis.
"He spoke brilliantly. He was very clever. He nearly had the US ambassador crying into his tea, impressed with wonderment."
On Mr Mugabe's government seizing white-owned farms, he said: "What has happened is very cruel and nasty and doesn't reflect well on anybody.
"But it is worth trying to understand what is happening, rather than saying it's the lunatic act of one man. It's not."
Related Internet Links
The BBC is not responsible for the content of external sites.