Steenkamp mother: 'Arrogant Pistorius was sure to kill'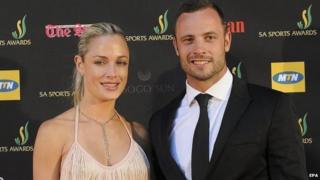 It was bad luck Reeva Steenkamp met Oscar Pistorius, her mother has said, as the "volatile" athlete "would have killed someone sooner or later".
Speaking to The Times, June Steenkamp calls Pistorius "pathetic", "moody", "gun-toting" and "possessive".
She rejects both his apology and his version of events, but admits: "He's the only one who knows the truth."
Pistorius is serving five years for the culpable homicide of girlfriend Reeva. He could be out in 10 months.
The South African athlete was cleared of murder.
'About to leave'
June Steenkamp told The Times, which is serialising her book, Reeva: A Mother's Story, which is to be published on 6 November, that Reeva had told her the couple had not yet entered a sexual relationship and had "nagging doubts about their compatibility".
She says: "She had confided to me that she hadn't slept with him. They'd shared a bed, but she was scared to take the relationship to that level.
"She wouldn't want to sleep with Oscar if she wasn't sure. I believe their relationship was coming to an end. In her heart of hearts, she didn't think it was making either of them happy."
Ms Steenkamp, 68, who was not called to testify at the trial, says this may have played a part in what happened on the night of the shooting, Valentine's Day last year.
She rejects his version of events, that there was no row and that he had thought there was an intruder in the toilet cubicle when he fired four shots through the door "without thinking".
"There is no doubt in our minds that something went horribly wrong, something upset her so terribly that she hid behind a locked door with two mobile phones," June writes.
Other words she uses to describe Pistorius are "arrogant", "moody", "combustible", "trigger-happy", "vague", "evasive" and "shifty".
She believes Reeva, 29, was about to leave Pistorius, 27.
She says: "Her clothes were packed. There is no doubt in our minds: she had decided to leave Oscar that night."
In the excerpt of the book serialised in the paper, Ms Steenkamp refers to Pistorius's apology to them in court.
"Why decide to say sorry to me in a televised trial in front of the whole world? I was unmoved by his apology.
"I felt if I appeared to be sorry for him at this stage of his trial on the charge of premeditated murder, it would in the eyes of others lessen the awfulness of what he had done. He was in the box trying to save his own skin."
Nevertheless, the parents say they do want to meet Pistorius.
Although she says "I am not entirely sure what I am going to say", father Barry, 71, says he wants an apology.
"I would like him to really, truthfully say, although he said it in court, 'I'm sorry.'  I would like him just to say it to our faces."
Ms Steenkamp also talks about the "wrenching pain that you get in your heart" when thinking of her daughter's death.
"It's always there. The minute your eyes open in the morning, or if you wake up in the middle of the night, there it is."
Pistorius, an amputee sprinter, became the first athlete to compete in the Olympic and Paralympic Games.
He is serving his sentence in Pretoria's Kgosi Mampuru II jail.
Pistorius was also given a three-year suspended sentence for firing a gun in a restaurant.
Inside Oscar Pistorius's home
3D animation of the apartment