Second massacre in days leaves 20 dead in east DR Congo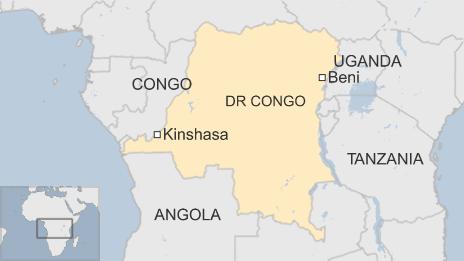 Militants have killed at least 20 people, said to be mostly women and children, in the second massacre in two days near the DR Congo town of Beni.
A local pastor told BBC News they had been killed with guns, machetes and axes in the village of Eringeti.
A local rights group said the killers had come from neighbouring Uganda.
However, a local official could not confirm the allegation. On Thursday, 26 people were killed near Beni, also mostly women or children.
The town's mayor accused a Ugandan Islamist group, the Allied Democratic Forces (ADF), of that attack.
Both the DR Congolese army and the UN have bases in Eringeti, 55km (34 miles) from Beni.
The UN mission in the DR Congo has been repeatedly criticised for failing to protect civilians, the BBC's Maud Jullien notes.
Amisi Kalonda, government administrator for the Beni area, told AFP news agency he was heading to Eringeti along with an army contingent.
He was unable to say if the ADF were to blame.
The ADF is based in mineral-rich eastern Democratic Republic of Congo, where numerous armed groups have caused havoc over the past two decades.
Formed in 1996 by a puritanical Muslim sect in the Ruwenzori mountains of western Uganda, the group has established links with Somalia's al-Shabab militants, according to a 2012 UN report.
Peace agreements last year have failed to end violence in DR Congo's eastern regions.
At least 70 people have been killed in the east DR Congo border area over the past two weeks, in attacks "accompanied by rape, torture and mutilations", said UN official Maurizio Giuliano.
Several thousand civilians have fled their homes as result, the official added.