Czech Ebola error sparks Ghana row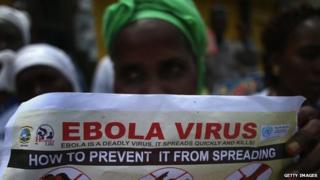 Czech medical workers have sparked a diplomatic row after they covered a Ghanaian student in black plastic and rushed him to quarantine over unfounded fears that he had Ebola.
The student was apparently suffering nothing more than a bad cold.
Ghana's Prague envoy Zita Okaikwe told the BBC that her government would lodge a formal complaint over the incident.
Ghana has not been affected by the worst ever Ebola outbreak, which has killed thousands in West Africa.
The Czech government has not commented on the incident.
A video clip from Russian media purportedly showing the incident has been widely shared on YouTube.
The student apparently cleared airport security, but was later picked up at Prague's main railway station.
Many Ghanaians are outraged about the way the student was treated, reports the BBC's Sammy Darko from Accra.
Ms Okaikwe said the student had been left traumatised by the experience.
---
Avoid direct contact with sick patients as the virus is spread through contaminated body fluids
Wear goggles to protect eyes
Clothing and clinical waste should be incinerated and any medical equipment that needs to be kept should be decontaminated
People who recover from Ebola should abstain from sex or use condoms for three months
Ebola basics: What you need to know
---