Mozambique polls close in battle between Frelimo and Renamo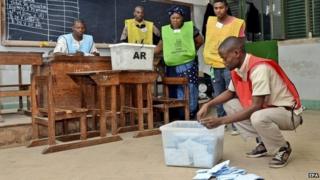 Votes are being counted in Mozambique after presidential and parliamentary elections on Wednesday.
Voting was extended at some stations amid reports of a large turnout in what observers said were peaceful elections.
The governing Frelimo party is facing a tough challenge from longstanding rival Renamo, who it has fought at the ballot box and in an on-off civil conflict.
Mozambique is one of Africa's fastest-growing economies, with billions of dollars worth of natural resources.
The country remains one of the world's poorest.
Frelimo has dominated politics since independence from Portugal in 1975 but Renamo's leader, Afonso Dhlakama, came out of hiding to run for the presidency.
The BBC's Emmanuel Igunza in the capital, Maputo, says Renamo's last-minute entry has made this the most fiercely contested election since independence.
Campaigning was largely peaceful, despite some reports of clashes.
Mozambique's economy was battered by the 16-year conflict between Frelimo, the party of the rebels who fought Portuguese colonialism, and Renamo, a guerrilla movement backed by white-minority governments in South Africa and Rhodesia, now Zimbabwe.
The conflict ended in 1992, after the deaths of an estimated one million people. Renamo took up arms again in 2013 but in August agreed a ceasefire.
The opposition argues that only a small elite associated with Frelimo have reaped the benefits of Mozambique's new-found prosperity.
A relatively new party, the Mozambique Democratic Movement (MDM), led by the mayor of the second city, Beira, has also been gaining ground and could make gains in the parliamentary vote.
---
The presidential candidates
Filipe Nyusi (Frelimo) is a former defence minister, running on a "continuity ticket". His main campaign pledge is to mechanise the underdeveloped agricultural sector, redistribute wealth and tackle mass youth unemployment
Afonso Dhlakama (Renamo) is a veteran opposition leader who joined the presidential race at the last minute after emerging from hiding in the Gorongosa mountains of central Mozambique in September to sign a peace deal with Mr Guebeza
Daviz Simango (MDM) only formed his party in 2009 after breaking away from Renamo
---
Correspondents say that Frelimo has held on to power partly because of its liberation movement credentials but also because Renamo has failed until now to present a political alternative that reaches out beyond its core supporters.
President Armando Guebuza, a former millionaire businessman, is stepping down after serving the maximum two terms.
Analysts say changes in the electoral law, which mean the two main parties have representatives at the National Electoral Commission (CNE), should ensure the legislative and presidential count is more transparent.
The European Union sent election observers, as did the US-based Carter Center, the Southern African Development Community (Sadc) and the African Union.
More than 10.7 million people are registered to vote in the country's 11 provinces, as well as more than 89,500 Mozambicans in the diaspora.